Monteforte d'Alpone (Italy), Sunday 22 January 2012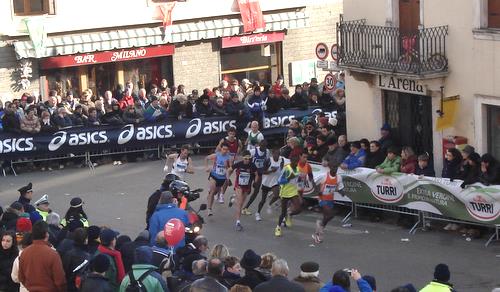 The Montefortiana Turà is a high-profile road race for elite runners. It concludes the hugely popular Montefortiana, a two-day running and walking festival in northern Italy.
Women run 6,060 metres (four laps), and men run 10,605 metres (seven laps).
The course is an undulating loop through the village of Monteforte d'Alpone, situated at the foot of a lovely wine-growing region to the east of Verona.
In 2011, Asmae Ghizlane of Morocco won the women's race in a time of 20min 8sec. Kenya's Paul Sugut celebrated victory in the men's race in 31min 27sec.
You may not qualify to run in the elite race (the qualifying time for the men's race is 32min for 10km) but you could take part in one of the scenic runs that are held in the morning, like the Maratonina Demmy or the new EcoMaratona, and then watch the Turà races in the afternoon.
Race report and photos 2012: Ecomaratona, Montefortiana Turà
Race report and photos 2011: Montefortiana, Montefortiana Turà
Country: Italy
Venue (Map): Monteforte d'Alpone (Verona 27km, Padova 58km, Venice 97km)
Date: 22 January 2012 (Sunday)
Race distance: 6,060 metres (women); 10,605 metres (men)
Start time: 14.00 (women); 14.30 (men)
Start and finish: at the church in the centre of Monteforte d'Alpone
Entries (men's race): This email address is being protected from spambots. You need JavaScript enabled to view it. (until 20 Jan 2012)
Entries (women's race): This email address is being protected from spambots. You need JavaScript enabled to view it. (until 20 Jan 2012)
Race centre: Montefortiana-Expo (Saturday 21 Jan 2012 14.00-21.00; on the day 6.30-9.00)
Prizes: prize money to the first 30 men and 20 women
Award ceremony: 16.00
Number of finishers 2011: 22 men, 20 women
Event website (in Italian and English): www.montefortiana.org
No guarantee is made as to the accuracy or thoroughness of the information on this page.