22-23 January 2022 - Cancelled!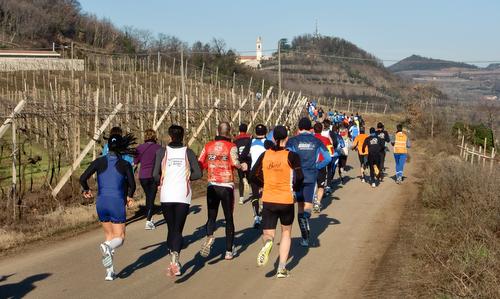 Held over a weekend in January in the picturesque wine-producing hills between the cities of Verona and Vicenza, the Montefortiana draws around 20,000 or more participants every year, which makes it one of the most popular running and walking events in Italy.
The event has something for everyone:
Saturday:

Marcia dei Bimbi (non-competitive charity run and walk: 5km for schoolchildren, 10km for adults)

Sunday:

Ecorun Collis (multi-terrain race: 26km with 900m of ascent)
EcoMaratona Clivus (multi-terrain race: 45km with 1,900m of ascent)
Marcia Montefortiana Falconeri (non-competitive run and walk: 6km, 9km, 14km and 20km; approximately 18,000 participants)
Maratonina Falconeri (road race: 21.1km half marathon, hilly course)
Passi nel tempo (guided walk for groups of up to 30 people: 10km)
Gran Premio Pedrollo (kids' races: 300m, 500m, 1km, 1.5km)
Starting and finishing in the village of Monteforte d'Alpone, all routes are very scenic.
Update for the Montefortiana 2022:
The Ecomaratona Clivus (entry limit 500 runners) und Ecorun Collis (entry limit 400 runners) will take place on Saturday.
The total number of participants in the Marcia Montefortiana Falconeri will be limited to 6,000.
Map of the venue:
46. Montefortiana:
Date:
22-23 January 2022 - Event cancelled!
Event website:
Archive:
Race report and photos:
No guarantee is made as to the accuracy or thoroughness of the information on this page.