World-class and fun
Szombathely (Hungary), 11 July 2009
Charles, a Roman from Savaria which is nowadays better known as Szombathely
Since her 42nd birthday, when Elvira Söjtöri staged a marathon in her home town of Szombathely for the first time, the avid runner and triathlete has been organizing a running festival every summer, and runners from all over Hungary and many other countries have travelled to the old Roman city of Savaria to run and have fun.
This year, 160 runners celebrated Elvira's 60th birthday with a 10x6km relay competition. The race was held on an undulating out-and back course, starting and finishing at the new sports complex at the edge of the city. Up to ten runners formed a team but some teams were composed of just two.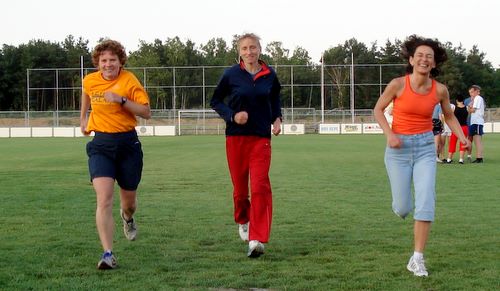 Edit Bérces (relay), Judit Nagy (marathon) and Brigitta Werderits (600m)
Edit Bérces, for instance, covered 30km in the relay — a mere jog for the multiple ultramarathon world record holder from Zalaegerszeg. Her 24hour world record on the track stands at 250km!
Brigitta Werderits from Szombathely doesn't run ultramarathons any more. She represented Hungary in numerous 100km and 24hours races but now she prefers to go for a short run. She took part in the 600m fun run around the football pitch at 8pm.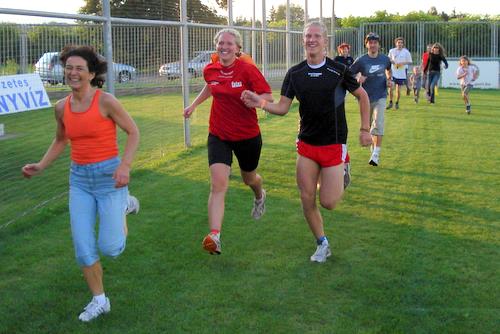 The 600m fun run for everyone
The fastest in the 600 meters run had come a long way. A group of 44 Danes from Kolding, one of Szombathely's twin towns, proved that "We are red, we are white, we are Danish dynamite!" is not just a slogan. The Scandinavians also formed two of the 24 relay teams.
In addition, 91 runners competed in the 6km run which formed part of the Cerr-Cup, a series of races in Austria, Hungary and Slovenia.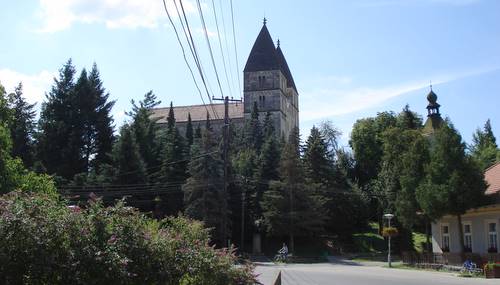 The marathon turning point in Ják
The most prestigious race of the day, however, was the 42.2km marathon. The route followed an out-and back course on the mildly-undulating road from the sports centre to the outstanding 13th century Romanesque abbey church in the pretty village of Ják, situated nine kilometres further south. The race included two laps of 18.1km each and a final lap of 6km.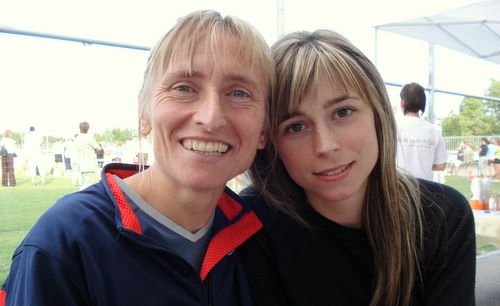 Judit Nagy with her daughter Réka Földing
Judit Nagy, a legend of Hungarian distance running, led the women home in a time of 2:59:45. The 44-year-old from Györ, winner of the marathons in Hamburg (1990) and Paris (1995), competed in two Olympic Games (Atlanta and Sydney) and holds a personal best of 2:28:50 (Berlin 1996). Her daughter Réka (23) is a highly talented 800m runner.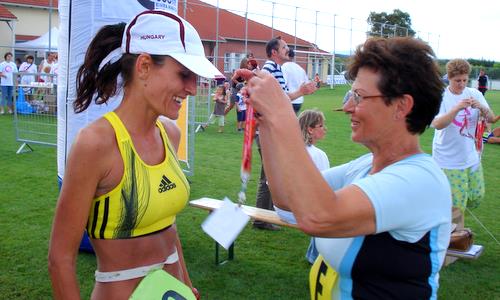 Szilvia Lubics and Elvira Söjtöri
Szilvia Lubics (35) from Nagykanizsa came second in 3:12:24. The mother of three sons said after the event she finds it easier to run 100km races than marathons and was very happy with her performance. Just three weeks before she had competed in the 100km "Night of Flanders" World Cup race in Belgium, finishing in 8h 54min. Like all finishers she got her medal from Elvira who had waited for each runner in the finish area before running 6k in the relay herself.
Ashenafi Erkolo from Ethiopia defended his title in 2:30:47 and showed no signs of weakness after his 2:14:59 in the downhill Gletschermarathon in Austria just one week before. The 25-year-old from Addis Ababa has been living in Hungary for more than two years and has since won a large number of races in Central Europe.
Attila Hegyaljai (35) from Budapest, who has often run well under 2h 30min, secured second place in 2:39:56 — a very good time considering the high temperatures and the late start at 2 p.m.
The event came to an end at midnight after a lovely evening with pasta, birthday cakes, champagne, music and dance.
Results Elvira Maraton 2009:
Map:
Back to: