Preview: 3rd International Skyrace Carnia
Paluzza (Italy), Sunday 13 June 2010
The Skyrace Carnia is a challenging up-and-down mountain race in the Carnic Alps in the far north-east of Italy, very close to the border with Austria.
Although the region sees much less international visitors than the Dolomites (to the west) or the Julian Alps (to the east) it is by no means less spectacular.
The race is about 24 kilometres on trails with 2000 metres of climbing and 2000 metres of descent.
The highest point on the course is at 2184 metres on Monte Floritz.
Entrants can opt to take part in the 19k race, which follows a shortcut route and doesn't go up and down Monte Floritz, but they have to take their decision before the race.
The start and the finish are at an elevation of 900 metres at the cross-country ski area "Laghetti di Timau" near the village of Timau in the municipality of Paluzza. Timau is on the mountain pass road that leads up to the "Passo di Monte Croce Carnico" (or "Plöckenpass" in German). The Italy-Austria border is on the summit of the mountain pass.
The race consists of one loop. At first, the route goes up to Monte Floritz, then down to the mountain pass and the border crossing (1360m), up again to the peak of Pal Piccolo (1800m), and finally downhill to the finish.
Participants must carry a windbreaker with them. The use of hiking poles is allowed. The time limit is 6 hours 30 minutes.
In 2009, the event had about 200 finishers. The winners were Fulvio Dapit (2:35:22) and Stephanie Jimenez (3:21:33).
Race report, results and photos: 2013, 2011, 2010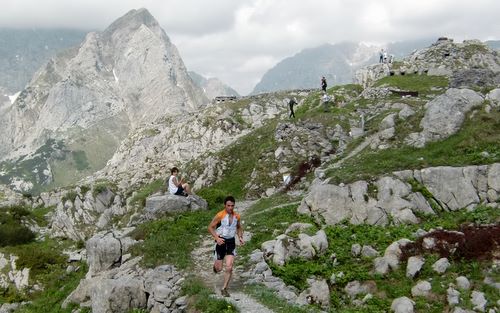 Country: Italy
Venue (Map): Laghetti di Timau (Paluzza 9km, Udine 75km, Villach 98km, Ljubljana 190km, Bolzano 191km)
Date: 13 June 2010 (Sunday)
Start time: 9.00
Race distance: 24.25km (+2000m, -2000m), 19.25km
Entries: online, payment by bank transfer; late entries on the day
Entry fees: 32 EUR (until 11 June), 40 EUR (on the day)
Race centre: Bar Tavernetta, Piazza XXI-XXII Luglio, Paluzza (Saturday 12 June 16.00-20.00); at the start (on the day from 7.30)
You get: technical T-shirt, lunch after the race
Prizes: prize money to the first 12 men and 6 women
Presentation: 15.00
Number of finishers 2009: 149 (24km), 45 (19km)
Event website (in Italian): www.aldomoropaluzza.it
No guarantee is made as to the accuracy or thoroughness of the information on this page.