Paluzza (Italy), Sunday 14 June 2015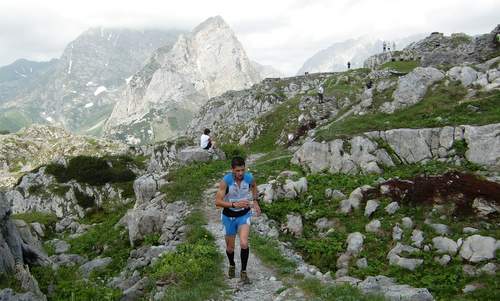 Held in the Carnia region in the north-east of Italy, the Skyrace Carnia takes runners up and down the Carnic Alps which extend along the Italy-Austria border.
The event offers two mountain races:
24.25km with 2000m of ascent and 2000m of descent
19.25km with 1600m of ascent and 1600m of descent
Both races are highly challenging, and some of the trails are very technical, but runners can take their time to complete the course and enjoy the stunning scenery.
The time limit is 6hr 30min, and there are eight aid stations along the route.
As the race takes place in a high-alpine environment all participants must carry a windbreaker jacket with them. It is allowed to use hiking poles.
The start/finish area is at an elevation of 900m at the Laghetti di Timau, near the village of Paluzza on the Passo di Monte Croce Carnico (German: Plöckenpass) mountain pass road which connects Italy and Austria.
Competitors run up to the summit of Monte Floritz (2184m), down to the border crossing on the mountain pass (1360m), then up to the peak of Pal Piccolo (1800m), and finally downhill to the finish in the valley.
The 19.25km route takes a shortcut that skips the summit of Monte Floritz.
One of the many memorable highlights on the course is running through the WWI trenches and fortifications on Pal Piccolo, which have been restored as an open-air museum.
Photos and results:
Race report, results and photos:
Race information:
Country:
Venue (Map):
Laghetti di Timau (9km from Paluzza, 75km from Udine, 98km from Villach, 190km from Ljubljana)
Date:
Start time:
Race distance:
Race centre:
Piazza 21-22 Luglio, Paluzza (Saturday 16.00-19.00)
in the start area (on the day from 7.00)
Entries:
online or by fax
entries close 12 June 2015
Entry fees:
€35 (advance payment by bank transfer)
€40 (payment in cash on the day)
Timekeeping:
TDS chip timing (included in the entry fees)
You get:
technical T-shirt
eight aid stations along the course
a meal after the race
Prizes (24km):
to the first 12 men and 8 women
Award ceremony:
at 15.00 in the start/finish area
Number of finishers 2014:
Event website:
No guarantee is made as to the accuracy or thoroughness of the information on this page.