5th Cross in Lipica 2012
Lipica (Slovenia), Sunday 19 February 2012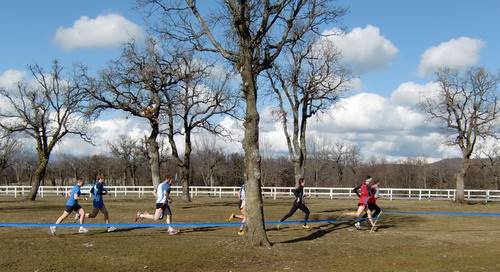 The annual Kros v Lipici cross-country running races are held in the famous stud farm of Lipica where Lipizzaner horses have been bred for more than 400 years.
Participants run several loops on one of the beautiful pastures of the farm which is situated very close to the border with Italy and to the port city of Trieste.
The race distance depends on the runner's age category:
300m-2km: children
4km: juniors (born 1993-1996)
6km: men (born 1966 or earlier) and women (born 1992 or earlier)
8km: men (born 1967-1992)
Last year, 130 runners of all ages took part in the event.
The Kros v Lipici is the last of a series of four cross-country running races in Slovenia's Primorska region. Most runners use the races to build up stamina, test their shape, meet people and have fun. The entry fees are very low (€4).
Race report and photos:
Race information:
Country:
Venue (Map):
Lipica (15km from Trieste, 84km from Ljubjana)
Date:
19 February 2012 (Sunday)
Start time:
11.00-11.40: children
12.00: 4km
12.25: 6km
13.00: 8km
Entries:
Entry fees:
€4
€2 for chiildren and juniors
You get:
Prizes:
medals and product prizes to the first three in each age group
Showers and changing facilities:
Number of finishers 2011:
64 adults
66 children and juniors
Event website (in Slovenian):
No guarantee is made as to the accuracy or thoroughness of the information on this page