Pure elegance
Lipica (Slovenia), 22 February 2009
You couldn't see any dressage. But it was stunning to see them gallop past.
They are lively and joyful, friendly and sociable, robust and graceful. This is said about Lipizzaner horses, but in this year's cross-country race in the famous stud farm of Lipica you could see that these features equally apply to many athletes.
Lipica is a little village in the Slovene Karst, very close to the Italian border and just about 15km from the port of Trieste. The stud farm was established in 1580 to breed horses for the Spanish Riding School in Vienna as the imperial court was looking for an elegant breed for parades. Today, Lipizzaners are mainly used for classical dressage. They are bred in various locations around the world, but there are still about 400 horses in the original farm in Lipica.
These had to leave one of their lovely pastures for a day to make way for the second edition of the Cross in Lipica. The event offered various races for different age groups. Children ran distances from 300m to 3km, adults competed in races over 5km, 6km or 8km.
A total of 142 runners from 4 to 72 years old clearly enjoyed the beautiful setting under the linden trees, fine weather, folk and pop music, and finally hot tea, fruit and biscuits in the finish area. There were no entry fees for children, and adults paid a nominal €3.50.
The fastest finishers on this day were the talented Mateja Golenač (19) and Peter Oblak (20).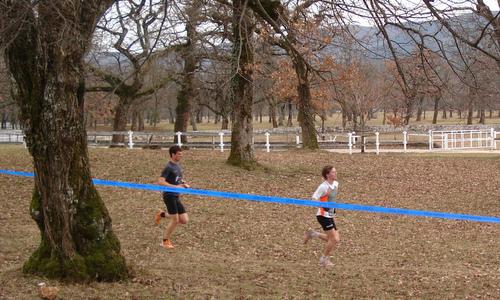 Back to: