Lipica (Slovenia), Sunday 21 February 2010
A total of 118 athletes of all ages compared their maximal power output in the cross-country races in Lipica on Sunday.
The event attracted runners from from all over Slovenia, as well as from England, Austria and Italy. Many participants clearly enjoyed running on soft green grass for the first time in months. The winter in Central Europe has been long and harsh with plenty of snow and ice, and training conditions have been far from perfect.
Lipica is a tiny village on the Karst limestone plateau in the south-west of Slovenia, just a few kilometres from the Italian port of Trieste. Although located at an elevation of 400 metres it still benefits from the mild Mediterranean climate.
The races were held in the famous stud farm of Lipica, which was established in the year 1580 to breed graceful Lipizzaner horses for the Spanish Riding School in Vienna. The farm is still home to about 400 horses.
Entrants ran several laps around one of the the farm's vast pastures. Children and juniors ran up to 3 kilometres, adults competed over 5, 6 or 8 kilometres, depending on their age category.
Children didn't pay any entry fees, adults paid a mere €3.50 on the day. The best finishers were awarded with medals and small prizes.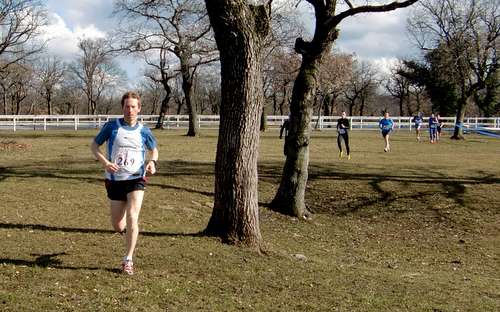 3. Kros v Lipici 2010:
Back to: