Trieste (Italy), Sunday 6 May 2012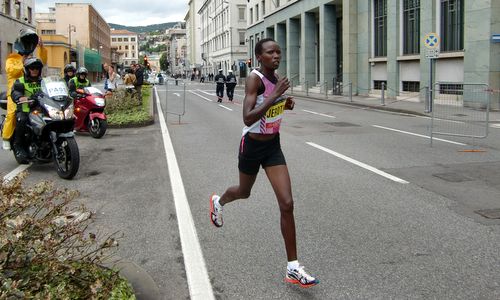 Rebecca Jerotich Tallam, winner of the Maratona d'Europa 2012
Approximately 10,000 runners took to the coastal road along the Gulf of Trieste on Sunday for the Bavisela, an annual running event in the north-eastern corner of Italy.
Over 2,000 of them took part in the Maratonina dei Due Castelli ("Two Castles Half Marathon") and around 700 runners completed the Maratona d'Europa which features an attractive but challenging 42.2km point-to-point course.
Most popular, however, was the 7-kilometre fun run. About 8,000 ran from the castle of Miramare to Trieste's magnificent main square, located right on the seafront.
The fastest runner of the day was Solomon Kirwa Yego. The 25-year-old Kenyan athlete ran the half marathon in a time of 1:02:45.
Rosaria Console (32), one of Italy's best marathon runners, showed a particularly fine performance, winning the women's half marathon in a highly respectable time of 1:11:23.
Kenyan athletes celebrated victory in the full marathon. Victor Kiprono Kimeli (26) finished the race in 2:17:02, beating Italy's three-time marathon champion Migido Bourifa (43) by almost two minutes. Rebecca Jerotich Tallam (35) was the first woman across the line—and the fourth-fastest finisher overall (2:37:10).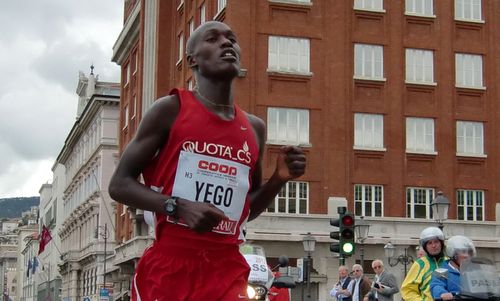 Solomon Kirwa Yego celebrated victory in the men's half marathon in 1:02:45.
Not as fast as the Kenyan, but with the same elegance — ultra runner Željko Brljak from Slovenia.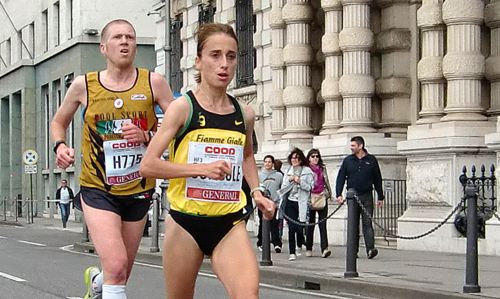 Rosaria Console won the half marathon in Trieste in a fantastic time of 1:11:23.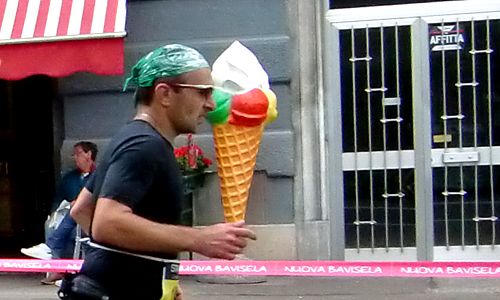 Ice cream is a staple food in Trieste.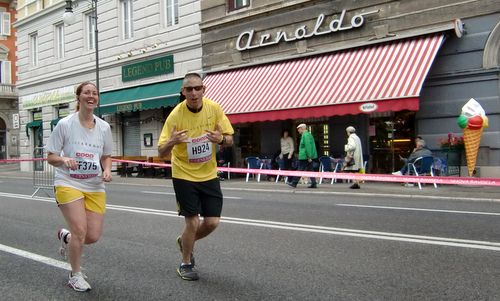 U.S. runners Brandy and Shawn Bowers clearly enjoyed the run.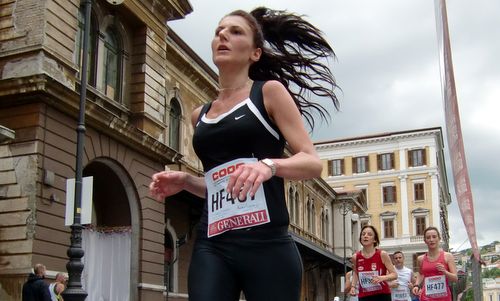 Over 500 women took part in the half marathon.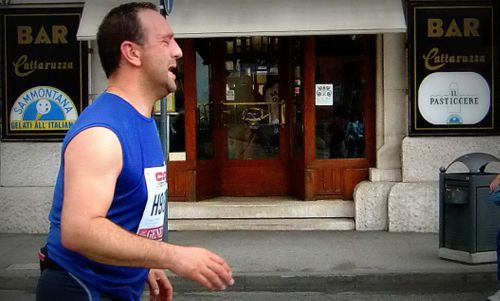 Distance running is a cruel sport.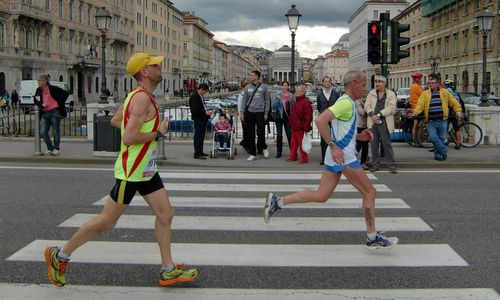 The final 500 metres: Runners passed the Canal Grande, ...
... ran along Riva Tre Novembre, ...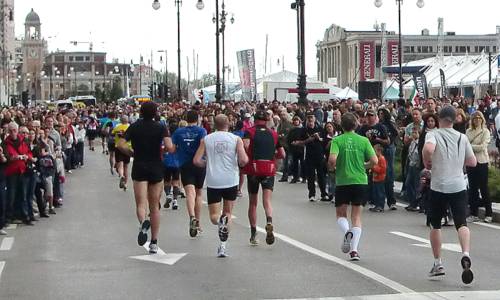 ... and sprinted to the finish line.
Results: 13. Maratona d'Europa 2012
Men: 578 finishers

| | | | |
| --- | --- | --- | --- |
| 1. | Victor Kiprono Kimeli | KEN | 2:17:02 |
| 2. | Migido Bourifa | ITA | 2:18:57 |
| 3. | Lorenzo Snidersich | ITA | 2:36:40 |
Women: 117 finishers

| | | | |
| --- | --- | --- | --- |
| 1. | Rebecca Jerotich Tallam | KEN | 2:37:10 |
| 2. | Elisa Stefani | ITA | 2:39:46 |
| 3. | Marilena Dall'Anese | ITA | 3:15:01 |
Results: 17. Maratonina dei Due Castelli 2012
Men: 1504 finishers

| | | | |
| --- | --- | --- | --- |
| 1. | Solomon Kirwa Yego | KEN | 1:02:45 |
| 2. | Philemon Kisang | KEN | 1:04:12 |
| 3. | Stefano Scaini | ITA | 1:04:37 |
Women: 565 finishers

| | | | |
| --- | --- | --- | --- |
| 1. | Rosaria Console | ITA | 1:11:23 |
| 2. | Emily Chepkorir | KEN | 1:15:03 |
| 3. | Mateja Kosovelj | SLO | 1:17:24 |
Event details:
Race report and photos:
Back to: