11. Maratona d'Europa 2010
Trieste (Italy), Sunday 2 May 2010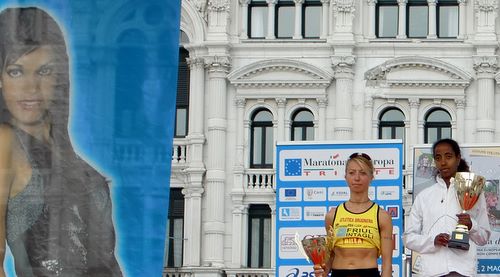 Every year on the first Sunday in May, the Gulf of Trieste in north-eastern Italy takes on a different colour. Last year it was pink, this year green was the predominant tone on the coastal road between the Habsburg castle of Miramare and the port city of Trieste.
An estimated 12,000 locals of all ages, almost all of them wearing a green T-shirt, took part in the 7km Bavisela, a non-competitive event held in support of the annual Maratona d'Europa. For several hours, runners, joggers, walkers, inline skaters and wheelchair riders streamed onto Piazza Unità d'Italia, Trieste's showpiece main square on the seafront.
The 42.2-kilometre marathon saw 613 finishers. The route from the old fortress town of Gradisca d'Isonzo to Trieste is mostly flat but it includes some challenging hills in the middle of the course.
Adem Zekerija of Ethiopia proved the strongest and won the race in a time of 2:24:05.
Croatia's experienced ultramarathon runner Marija Vrajić led the women home in 2:57:20, just one day after winning another marathon in Italy, the "Maratona del riso".
The half marathon runners joined the marathon field at the castle of Duino. This year, the race had 1,852 finishers. Local athlete Stefano Zancan defended his title in 1:10:33.
One week after her third place finish at the Merano Half Marathon, Wubet Tesma Yewubet of Ethiopia celebrated victory in a time of 1:15:55, ahead of Paola Mariotti (both pictured above).
Results 11th European Marathon 2010:
Men
| | | | |
| --- | --- | --- | --- |
| 1. | Adem Zekerija | Ethiopia | 2:24:05 |
| 2. | Serem Philemon Kipketer | Kenya | 2:24:40 |
| 3. | Franco Plesnikar | Italy | 2:29:55 |
Women
| | | | |
| --- | --- | --- | --- |
| 1. | Marija Vrajić | Croatia | 2:57:20 |
| 2. | Erika Bagatin | Italy | 3:03:59 |
| 3. | Jasna Jurišić | Croatia | 3:08:56 |
Results 15th European Half Marathon 2010:
Men
| | | | |
| --- | --- | --- | --- |
| 1. | Stefano Zancan | Italy | 1:10:31 |
| 2. | Stefano Gotti | Italy | 1:11:13 |
| 3. | Andreas Vojta | Austria | 1:12:01 |
Women
| | | | |
| --- | --- | --- | --- |
| 1. | Wubet Tesma Yewubet | Ethiopia | 1:15:55 |
| 2. | Paola Mariotti | Italy | 1:19:20 |
| 3. | Leslie Gold | Canada | 1:20:49 |
Full Results Maratona d'Europa 2010
Bavisela 2010
Stefano Zancan, winner of the Two Castles Half Marathon 2010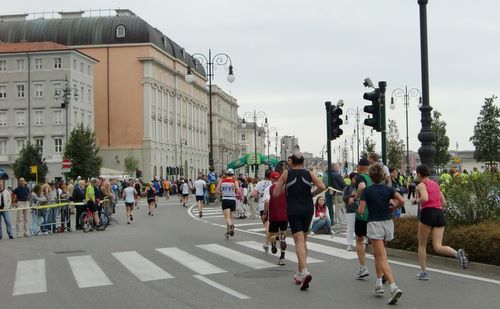 Runners on Riva Tre Novembre in Trieste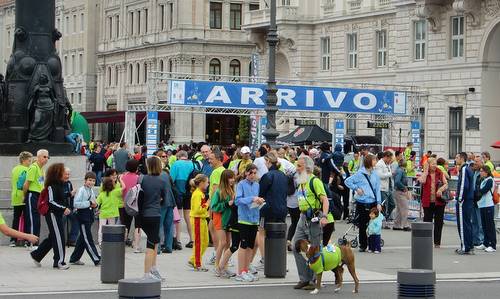 Arrivo on Piazza Unità d'Italia
Race report and photos:
Back to: