Pink port
Trieste (Italy), 3 May 2009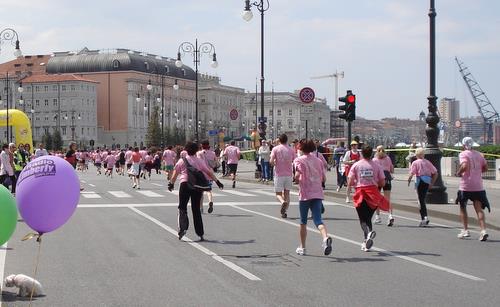 On the first Sunday in May, the Gulf of Trieste turned pink when more than 11,000 ran, walked or skated in a "maglia rosa" along the Riviera to the port city of Trieste.
The pink jersey, usually reserved for the leader of the cycling tour Giro d'Italia, was the dress of choice of thousands of participants in the Bavisela 7km run, a non-competitive event held in support of the Maratona d'Europa ('European Marathon'). The route took them from the Habsburg castle of Miramare to the Piazza Unità d'Italia, Trieste's showpiece main square on the seafront. All runners did a lap of honour around the square before they crossed the finish line with sea views.
The marathoners had started at 9.15am in the Venetian fortress town of Gradisca d'Isonzo, joined by the 21.1km runners at 10.30am at the castle of Duino. Overall, the course was flat and fast but around Duino competitors faced some testing hills. It was here on the long climbs that the hamstring problems of the Brasilian Nadir Sabino de Siqueira started. Nevertheless, she managed somehow to carry on and win the race in a time of 2:47:02. At the age of 39, it was just her second marathon and the first she finished.
Trieste is a cosmopolitan city and thus welcomed athletes from all over the world. The men's marathon was an African affair, decided between five Kenyans and one Moroccan. At the end, it came to a thrilling sprint finish of three runners, won by Justus Kiprono Kipchirchir of Kenya in a time of 2:14:48.
The half marathon winners came from the Trieste area. Stefano Zancan led the men home in 1:09:31, Paola Veraldi was first woman in 1:20:22.
Overall, there were 548 finishers in the marathon and 1,784 in the half marathon.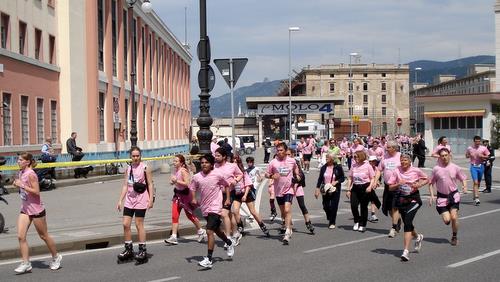 Race report and photos:
Back to: