10th Gradišče Mountain Race 2010
Gradišče pri Vipavi (SLO), Easter Monday 5 April 2010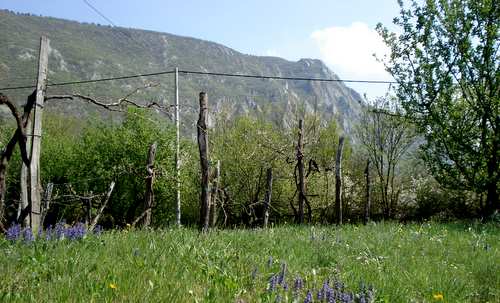 A mountain running race from the fertile Vipava Valley up to the Nanos Karst Plateau
No plans yet for Easter Monday? This small mountain running event in south-western Slovenia offers a nice way to get rid of the calories of Sunday lunch.
The route is just 4 kilometres long but it features an elevation gain of 550 metres, so that most participants walk at least some sections of the course.
The start is in the village of Gradišče pri Vipavi ("Gradišče near Vipava") in the fertile Vipava Valley, well-known for its delicate wines and the cultivation of fruits like cherries, apricots and peaches.
The race runs on well-marked forest trails, which are quite rocky in parts. The finish is on a clearing in the forest. You'll get some drinks and snacks at the finish and your bag with personal clothing but you won't need much up there as participants soon walk back down to the village to the award ceremony on the basketball pitch.
There are no views from the route but the woods and trails are really nice, and there's a great vantage point near the course which you shouldn't miss on your way down.
Vipava, a small town with lots of bridges and a 12th-century ruined castle on a hill, just 2 kilometres from Gradišče, is also worth a visit.
In 2009, the winners were Simon Alič (23:05) and Mihaela Tušar (30:47).
Race report: 9. Gradiški gorski tek 2009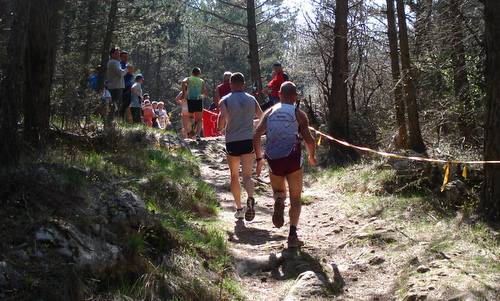 Country: Slovenia
Venue (Map): Gradišče pri Vipavi (Vipava 2km, Trieste 37km, Udine 70km, Ljubljana 75km)
Date: 5 April 2010 (Easter Monday)
Start time: 10.00 (children); 10.30 (4km)
Race distance: 4km (+550m); children 840m (+90m) and 1660m (+150m)
Start: Kulturni dom, near the basketball field in Gradišče pri Vipavi
Entries: on the day only
Entry fees: 10 EUR; 5 EUR (children)
Race centre: at the basketball field in Gradišče
You get: transport of personal clothing to the finish, drinks and snacks at the finish and after the race at the award ceremony
Prizes: trophies to the first 5 M/F; medals to the first 3 in each category; practical prizes
Number of finishers 2009: 106 (4km); 24 children
Event website (in Slovene): www.td-burja.com
No guarantee is made as to the accuracy or thoroughness of the information on this page.