Cortina d'Ampezzo - Dobbiaco (Italy), Sunday 31 May 2009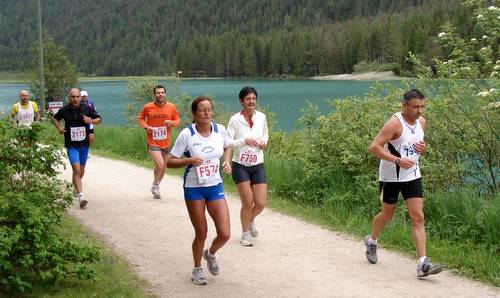 This popular 30km race through the breathtaking landscape of the Eastern Dolomites follows the disused railway line from Cortina d'Ampezzo to Dobbiaco (Toblach) in South Tyrol.
The route takes you mainly on dirt roads and footpaths across small wooden bridges, through tunnels, along impressive gorges and past alpine lakes. The jagged rocks of the Dolomites, notably the famous Three Lavaredo Peaks (Tre Cime di Lavaredo), provide a dramatic backdrop.
From the "Queen of the Dolomites", the upmarket ski resort of Cortina d'Ampezzo at an elevation of 1211 metres, the first 14 kilometres are gently uphill. The highest point on the course is at the Cima Banche Pass (1530m). From there you run downhill through the "Parco Naturale Dolomiti di Sesto" via Lago di Landro (Lake Landro) to the finish in the park of the Grand Hotel in Dobbiaco (1210m).
The supporting 11.5km non-competitive run will start at Lake Landro.
In 2008, almost 3000 runners took part in the event. The Moroccan Said Boudalia won in 1:36:03 (his third consecutive win in the race), ahead of New Zealand's Jonathan Wyatt and Britain's Martin Cox. Giovanna Ricotta led the women home in 1:57:29. She was trailed by Marina Zanardi and Daniela Vassalli.
Race report, results and photos: 10. Cortina-Dobbiaco Run 2009
Country: Italy
Date: 31 May 2009 (Sunday)
Venue (Map): Cortina d'Ampezzo — Dobbiaco (Toblach)
Race distance: 30km; 11.5km (non-competitive); 2.5km (charity run); 2km (children, Saturday at 16.00)
Start (30km): 9.30 Cortina d'Ampezzo, Corso Italia
Start (11.5km): 9.30 Lago di Landro/Dürrensee
Start (2.5km); 9.30 Lago di Dobbiaco/Toblacher See
Finish: Dobbiaco/Toblach, near the Grand Hotel
Entries: by mail, fax, e-mail or online (see event website)
Entry fees (30km): 30 EUR (until 30 April), 35 EUR (until 24 May), 40 EUR (until 29 May)
Entry fees (11.5km): 10 EUR (until 11 May), 12 EUR (until 29 May)
Race centre: Saturday (30 May) from 10.00 to 19.00 in the Grand Hotel Dobbiaco (near the train station); on Sunday from 7.30 to 9.00 in the start areas
You get: T-Shirt, goody bag with medal, transport of clothing from the start to the finish, chip for timing; bus service between the start and finish areas (before and after the race)
Prizes: prize money to the first 30 M and 15 F; practical prizes to the first 5 in the categories; prizes are not cumulative
Presentation: 14.30
Number of finishers 2008: 2211 (30km), 742 (11.5km)
Event website: www.cortina-dobbiacorun.it
No guarantee is made as to the accuracy or thoroughness of the information on this page.