Revival of steam power
Cortina d'Ampezzo - Dobbiaco (Italy), Sunday 31 May 2009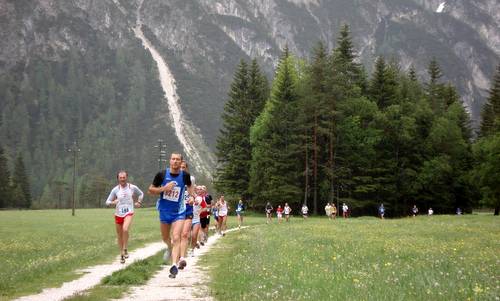 The longest Dolomites train ever huffed and puffed up and down the historic rail route from Cortina d'Ampezzo to Dobbiaco.
Pre-booking was essential. All 3,000 tickets for the 30km sightseeing trip were sold out six days before departure. The nostalgic journey is immensely popular as it follows an exceptionally attractive route on trails along a disused railway line through the heart of the Dolomites.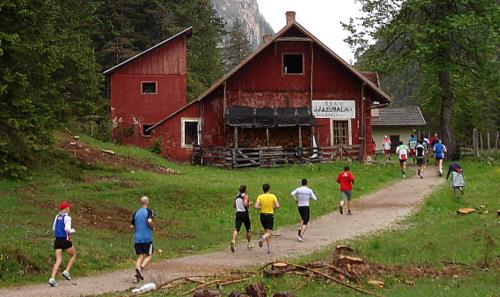 It was cold and rainy when the train of runners pulled slowly out of the winter sport resort of Cortina d'Ampezzo, located at an elevation of 1,211 meters. And when some waved goodbye to their beloved, the scene conjured up images of adventure, romance and excitement of travel.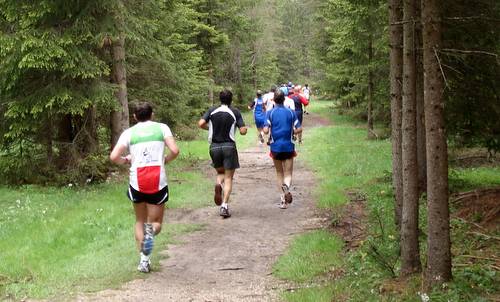 The first 14 kilometres were mildly uphill, and the travellers soon warmed up. The route took them through breathtaking gorges, across wooden bridges and through two tunnels, one of them 560 meters long.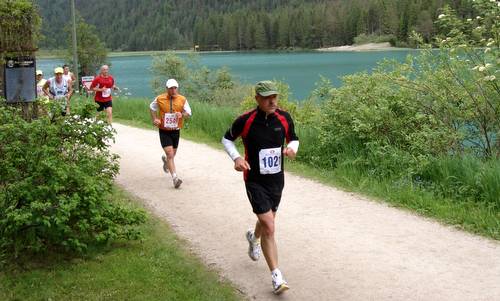 At the Passo Cimabanche, the highest point on the course at 1,530 metres, the train picked up steam. From there, it was all downhill, past two alpine lakes and through the stunning mountain scenery of the Sexten Dolomites, with the famous Three Lavaredo Peaks (Tre Cime di Lavaredo) to the right: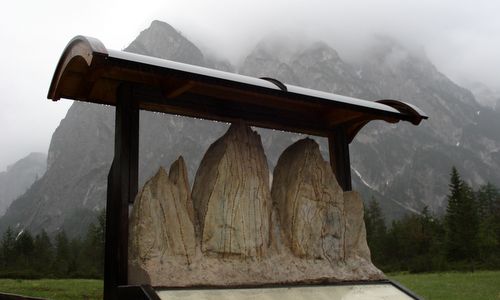 On the way, disused train stations, a military fortress and a war cemetery reminded of bygone days. The railway had been built by the Austrian military during World War One. In 1962, it was dismantled. Nowadays, it's a favourite spot for hikers and mountain bikers in the summer, and for cross-country skiers in the winter.
The final destination was reached at the Grand Hotel in Dobbiaco (1210m).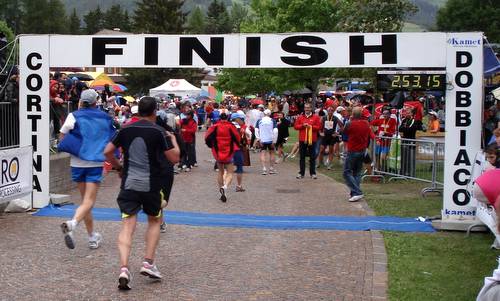 The train was drawn by a very powerful steam engine. Said Boudalia (pictured below), who was born in Morocco but has lived in Italy for many years, celebrated his fourth consecutive win in the race. Giovanna Ricotta defended her title as well and improved her own course record by 29 seconds.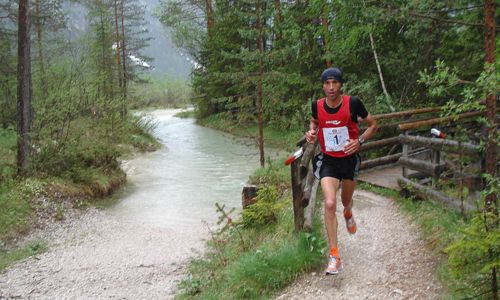 More than 1,000 runners and walkers took part in the supporting 11km fun run from Lake Landro to Dobbiaco, and 92 young athletes participated in the children's races.
Results 10. Cortina-Dobbiaco Run 2009

:
| | | | | | |
| --- | --- | --- | --- | --- | --- |
| 1. | Giovanna Ricotta | 1:57:02 | | Said Boudalia | 1:38:52 |
| 2. | Elena Casaro | 1:59:05 | | Khalid En Guady | 1:41:27 |
| 3. | Paola Felletti | 2:01:40 | | Hermann Achmüller | 1:43:36 |
| 4. | Valentina Bonanni | 2:05:09 | | David Daris | 1:43:52 |
| 5. | Morena Dal Pos | 2:07:55 | | Stefano Zancan | 1:44:24 |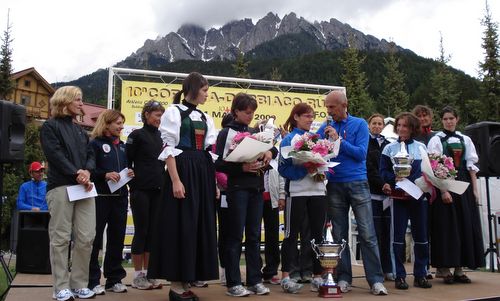 Race information:
Back to: