Udine (Italy), Saturday 27 June 2009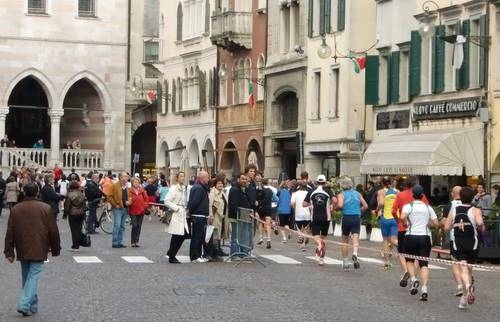 The famous Italian sports tabloid Gazzetta dello Sport, which is printed on pink paper, has given its colour to the jersey of the leading rider of the Giro d'Italia bicycle race.
But cyclists are not the only ones who dream of wearing the pink jersey. The maglia rosa is also awarded to the winners of each stage of the Gazzetta Run, a series of ten running events held all over Italy — from Roma in April to Napoli in October. The runner-up is decorated with a maglia rossa, a red jersey, and the bronze medallist receives a green maglia verde.
The fourth race of the series is particularly attractive as it's staged in the historic centre of Udine with its well-preserved historic buildings, fine churches, and elegant piazzas.
The race follows a 2.335km loop course through the old town and across the castle hill, with start and finish in front of the cathedral.
You need to produce a valid medical certificate if you want to take part in the 9.34km competitive race (4 laps). The non-competitive race (4.67km, 2 laps) is open to everyone and starts at 6pm, two hours before the main race.
In support of the event, there will be music, shows and performances on the streets of Udine.
Race report, photos and results: 2011, 2010
Country: Italy
Venue (Map): Udine
Date: 27 June 2009 (Saturday)
Race distance: ca. 2.5km (children); 4.67km (non-competitive); 9.34km (competitive)
Start time: 16.00 (children); 18.00 (4.6km); 20.00 (9.3km)
Start and finish: Piazza del Duomo
Entries: advance entries online or by post or fax; payment by credit card or bank transfer; late entries for the non-competitive race on the day until 30 minutes before the start (please cross-check this information with the event organizers!)
Entry fees (children): €5
Entry fees (4.6km, non-competitive): €8
Entry fees (9.3km, competitive): €10; athletes not affiliated with FIDAL (Italian Athletic Federation) will have to pay an additional €5 and show a valid medical certificate
Race centre: in the "pink village" on Piazza Matteotti
You get: goody bag with a Reebok T-Shirt
Prizes (9.3km): to the first 3 M/F in each category
Presentation: 21.30
Event website: run.gazzetta.it
No guarantee is made as to the accuracy or completeness of the information on this page.