Gazzetta Run Udine
Udine (Italy), Saturday 8 May 2010
Stefano Guidotti (right) wins the "maglia rosa", Stefano Gotti comes second
The Italian sports tabloid Gazzetta dello Sport, famously printed on pink paper, has given its colour to the jersey of the leading rider of the Giro d'Italia bicycle race.
But cyclists are not the only ones who dream of wearing the prestigious "maglia rosa". The pink jersey is also awarded to the winners of each stage of The R.U.N. (previously called "Gazzetta Run"), a series of ten road running events in Italy, from Roma in April to Fidenza in October. All events offer race distances of approximately 10k and 5k.
The second race of the series was held in the city of Udine in the north-eastern part of Italy.
Participants in the 10k race, who wanted to appear in the results list (and be eligible for prizes), had to provide a medical certificate at registration. Other runners could take part in the race but their finishing times were not measured. Athletes also didn't need a doctor's signature for the non-competitive 5k race.
Overall, 711 finishers were listed in the 10k results, and several hundred runners participated in the races without timekeeping.
The start of the 5k run was at 6pm. The 10k started off at 7pm when the streets in the city centre (and in particular the bars) were crammed with people.
The three-lap course through the inner city was very scenic but also highly challenging and tricky with lots of twists and turns, narrow passages, unexpected obstacles like pedestrians and cyclists, and lots of cobblestones. Ouch!
The winning times were fabulous, partly because the 10k course was a bit short, probably more like nine kilometres. Competition was fierce with a large number of strong athletes running very hard. Stefano Guidotti celebrated victory in a time of 27 minutes 53 seconds, Isidora Castellani led the women home in 32 minutes 12 seconds.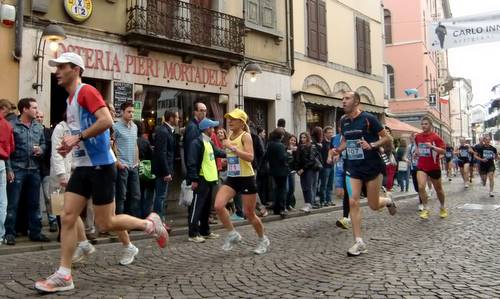 Results Gazzetta Run Udine 2010:
Men
| | | | |
| --- | --- | --- | --- |
| 1. | Stefano Guidotti | ITA | 27:53 |
| 2. | Stefano Gotti | ITA | 28:01 |
| 3. | Marco Moretton | ITA | 28:22 |
Women
| | | | |
| --- | --- | --- | --- |
| 1. | Isidora Castellani | ITA | 32:12 |
| 2. | Marta Santamaria | ITA | 33:12 |
| 3. | Laura Ursella | ITA | 33:32 |
Full results: Gazzetta Run Udine 2010
Participants passed the magnificent Loggia del Lionello three times.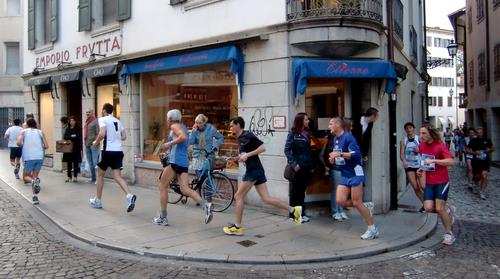 The course featured some sharp corners.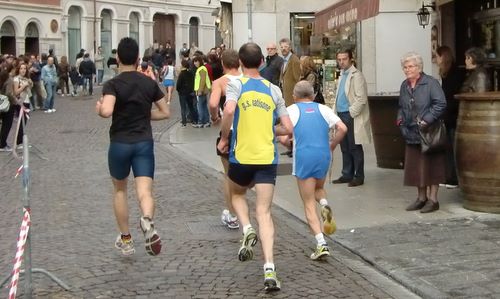 Athletics fans lined the streets of Udine.
Back to: