Udine (Italy), Saturday 14 May 2011
Last year, the route of the 10K Gazzetta Run in Udine was about nine kilometres long. This year, it was more like eleven kilometres, and not a single drop of water was available on the course.
Well, at registration, participants had provided a medical health certificate to prove that they are in good shape. So, nobody suffered from cramps or dehydration although it was a very warm night in mid-May, and all runners were happy to queue for drinks after the race.
Over 650 runners took part in the race, which consisted of three laps through the beautiful historic centre of Udine, a city of 100,000 people in the Friuli area in the north-eastern part of Italy. In addition, several hundred participated in the non-competitive runs, for which runners didn't need a medical certificate.
The route was very mildly undulating and full of twists and turns, and some sections were run on cobblestones. The top finishers were Adil Lyazali of Morocco and Micaela Bonessi of Italy.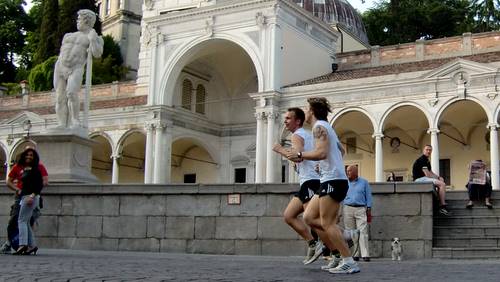 The non-competitive 7K run started at 6pm. Participants ran two laps through Udine's city centre.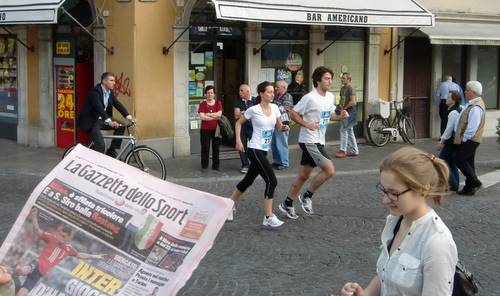 The event has been named after Italy's most popular sports tabloid.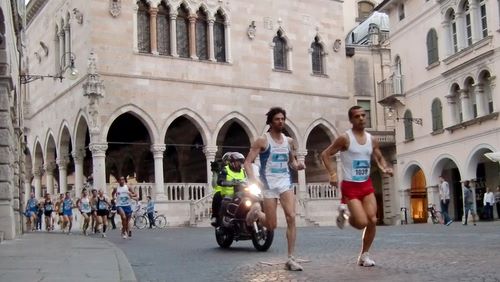 The start of the main race was at 8pm. Carlo Spinelli and Giovanni Iommi went off like rockets.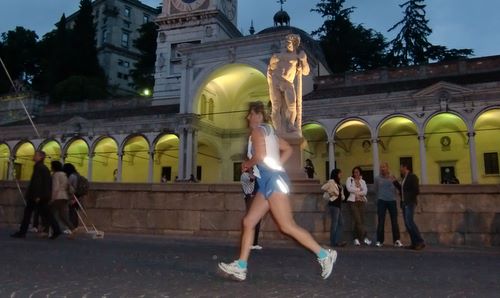 Runners crossed the magnificent Piazza Libertà three times.
Over 650 runners took part in the race.
Results Gazzetta Run Udine 2011:
Race distance: ca. 11km

Women: 118 finishers
| | | | |
| --- | --- | --- | --- |
| 1. | Micaela Bonessi | ITA | 38:15 |
| 2. | Isadora Castellani | ITA | 38:56 |
| 3. | Alessandra Lena | ITA | 40:15 |
| 4. | Vania Monticolo | ITA | 40:16 |
| 5. | Juliana Driutti | ITA | 42:03 |
Men: 541 finishers
| | | | |
| --- | --- | --- | --- |
| 1. | Adil Lyazali | MOR | 33:46 |
| 2. | Giovanni Iommi | ITA | 34:24 |
| 3. | Gernot Hammer | AUT | 35:00 |
| 4. | Paolo Della Mea | ITA | 35:10 |
| 5. | Carlo Spinelli | ITA | 35:19 |
Back to: