Saturday 6 May 2023
The Tek trojk ('Troika Run') is a running event for teams of three runners, held annually in May in Ljubljana, capital of Slovenia.
It forms part of the annual celebrations that commemorate the liberation of Ljubljana at the end of World War Two.
Usually, the event attracts approximately 5,000 participants in three races:
3km for school teams
12.5km
29km
It is not possible to take part in any of these races as an individual runner. Participants must form a team of three runners (male, female or mixed). All three team members must run the full distance, and the three must cross the finish line together.
Starting and ending in Ljubljana's beautiful historic centre, both the 12.5km and the 29km routes are single-loop courses that take the runners through the eastern part of the city and across the densely-wooded Golovec hill.
Some portions of the course are on gravel roads or trails.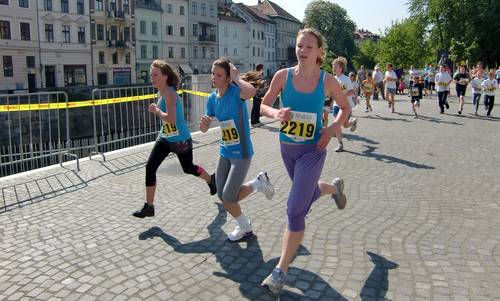 Map of the venue:
yellow: start 3km
blue: start 12.5km and 29km
red: finish (all races)
Tek trojk 2023:
Date:
Event website:
Number of finishing teams:
3km
12km
29km
2022
231
528
62
2021
Event cancelled
2020
Event cancelled
2019
522
1,026
131
2018
396
1,032
166
Archive:
Race report and photos:
No guarantee is made as to the accuracy or thoroughness of the information on this page.