Saturday 11 September 2021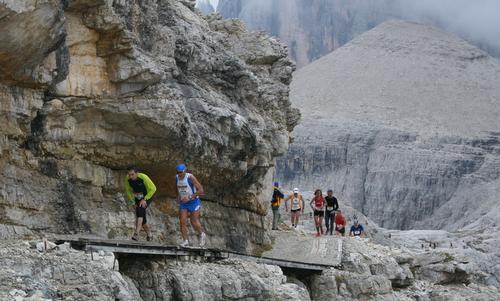 The Südtirol Drei Zinnen Alpine Run is a highly-scenic and challenging mountain race held annually in the Sexten Dolomites in the province of South Tyrol (German: Südtirol; Italian: Alto Adige) in the far north of Italy, near the border with Austria.
Starting at an elevation of 1,320 metres in the resort of Sexten (Italian: Sesto) where about 95 percent of the residents speak German as a first language, the race course is 17 kilometres long. It includes 1,333 metres of ascent.
The finish line is at 2,405 metres above sea level at the Locatelli Hut, (Dreizinnenhütte; Rifugio Locatelli) which offers stunning views of the famous Three Peaks of Lavaredo (Drei Zinnen; Tre Cime di Lavaredo).
Map of the venue:
Number of finishers:
2021: 566 (414 men and 152 women)
2020: 484 (354 men and 130 women)
2019: 679 (486 men and 193 women)
2018: 837 (613 men and 224 women)
24. Südtirol Drei Zinnen Alpine Run:
Date:
11 September 2021 (Saturday)
Race distance:
Event website:
Archive:
Race report, results and photos:
No guarantee is made as to the accuracy or thoroughness of the information on this page.