Basovizza (Trieste), Italy, Sunday 12 March 2017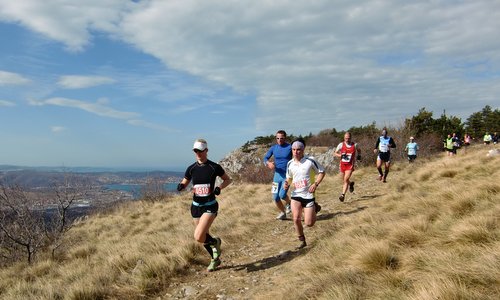 The Kokoš Trail features two very challenging and spectacularly scenic trail races (8km, 16km) around the village of Basovizza which sits on the thinly-populated carso (Karst Plateau) above the Adriatic port of Trieste in the north-eastern corner of Italy.
The 8k features about 300m of ascent and 300m of descent, the 16k twice as much.
Starting and finishing at Basovizza's football pitch (at about 380m above sea level), the route takes the runners through beautiful woods and grassland in two countries, Italy and Slovenia.
The highest point on the 16km course is at an elevation of 672 metres on the wooded Monte Cocusso (Slovene: Kokoš).
Last year, more than 600 runners took part in the event. The fastest finishers in the 16k race came from Slovenia — Mitja Kosovelj (1:05:05) and Jana Bratina (1:26:52).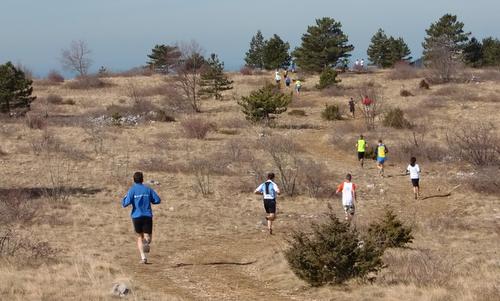 Race report and 13 photos:
Country: Italy
Venue (Map): Basovizza (Trieste city centre 11km, Rijeka 66km, Ljubljana 88km)
Date: 12 March 2017 (Sunday)
Race distance: 8km; 16km
Start time: 10.00
Start and finish: at the Campo Zarja football pitch (near the Foiba di Basovizza memorial site)
Race centre: in the start/finish area (on the day 8.30-9.30)
Entries: online or by e-mail; late entries on 11 March 2017 at Negozio Track & Field, Basovizza; entrants must be registered with a sports club that is affiliated to an athletics federation or they must provide a medical certificate and a FIDAL Runcard (see details on the official event website)
Entry limit: 150 runners (8km), 500 runners (16km)
Entry fees (8km):
€ 11 (up to 28 February 2017)
€ 16 (up to 10 March 2017)
€ 25 (on 11 March 2017)
Entry fees (16km):
€ 16 (up to 28 February 2017)
€ 20 (up to 10 March 2017)
€ 25 (on 11 March 2017)
Timekeeping: MySDAM microchip (€2 deposit for the timing chip, fully refundable)
You get: a souvenir gift, two aid stations on the course, soup after the race, chip timing
Prizes (16km): to the first 15 men and 8 women; to the best finishers in each FIDAL category; to the 5 largest groups
Award ceremony: at 12.30
Number of finishers 2016: 87 (8km), 535 (15km)
Event website: www.euromarathon.it
No guarantee is made as to the accuracy or thoroughness of the information on this page.