11th Santa Klaus Half Marathon 2015
Belluno (Italy), Sunday 13 December 2015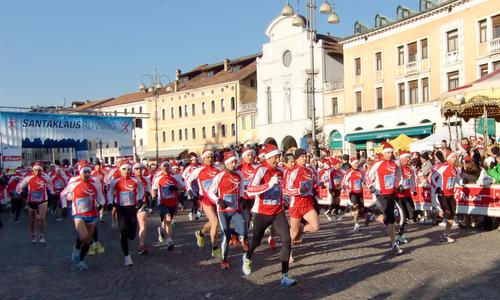 The Santa Klaus Running draws over 2,000 runners to Belluno, a 2,200-year-old town that sits at the foot of the Eastern Dolomites in the Veneto region in Italy.
Three very scenic routes are on offer — a 5k, a 10k, and a half marathon.
The 5k and the 10k are non-competitive fun runs which are open to all runners.
Entrants to the half marathon, however, must be registered with an athletics club, or they must present a medical certificate for sports.
All participants receive a Santa Claus outfit which they must wear on the course.
Starting and finishing on Belluno's main square, Piazza dei Martiri, the 5k route is rather flat and suitable for the whole family.
In contrast, the 10k and the half marathon are hilly and challenging multi-terrain races which take the runners not only through Belluno's historic centre but also through rural areas and villages. The difference between the lowest and the highest point on the half marathon course is about 120 metres.
Last year, the fastest half marathon finishers were Simone Wegher (1:13:46) and Paola Dal Mas (1:22:12).
Race report, results, and photos: Santa Klaus Running 2011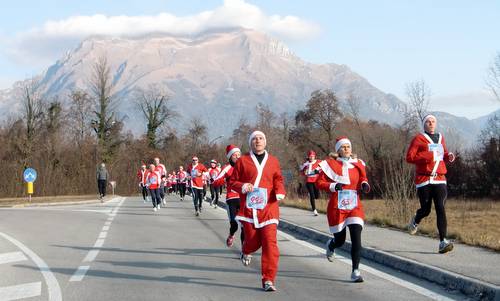 Country: Italy
Venue (Map): Belluno (Venice 108km, Verona 171km, Trieste 190km)
Date: 13 December 2015 (Sunday)
Race distance: 5km (non-competitive run); 10km (non-competitive run); 21.1km (competitive race); 10km (non-competitive nordic walking)
Start time: 10.00 (21km); 10.05 (5km, 10km; 10km nordic walking)

Start and finish: Piazza dei Martiri, Belluno
Race centre: on Piazza dei Martiri (12 Dec 2015, 15.00-19.00; on the day 8.00-9.45)
Entries: online or by post or fax (up to 9 December 2015, 20.00); late entries on 12 December 2015 and on the day of the race (up to 9.30); entrants to the 21km half marathon must provide a medical certificate if they are not members of a recognized athletics club

Entry fees (5km, 10km): € 10 (up to 30 Nov 2015), € 15 (up to 9 Dec 2015) or € 12 if you already have a Santa Klaus dress

Entry fees (21km): € 15 (up to 30 Nov 2015), € 20 (up to 9 Dec 2015)
You get (5km, 10km): a Santa Claus dress and a hat

You get (21km): a Santa Claus technical T-shirt and a hat

Prizes (5km): to the first 3 M/F in the categories '1996 and under' and '2001 and under'
Prizes (10km): to the first 10 M/F
Prizes (21km): to the first 15 M/F and to the first 5 M/F in the 'Over 45' category
Award ceremony: 12.00 (runners), 12.30 (nordic walkers)
Number of finishers 2014: 509 (12km), 600 (21km)
Event website:
No guarantee is made as to the accuracy or thoroughness of the information on this page.