Belluno (Italy), Sunday 11 December 2011
On a beautiful Sunday morning in the Dolomites, a record-breaking 1,547 Santas from various countries met in the town of Belluno for the 4th Santa Klaus Running, which offered three distances for runners of all abilities.
The 500 competitors in the half marathon were dressed in state-of-the-art technical Santa shirts, whereas participants in the 6K and 12K ran or walked in traditional (but lightweight) red coats and hats.
The start and finish were on the main square of Belluno, a 2000-year-old town on the southern edge of the Dolomites in northern Italy, about 100km north of Venice.
Nicola Spada can claim to be this year's fastest Santa Claus. The 26-year-old athlete completed the very challenging and varied half marathon course in 1:11:30, which is a very fine time considering that he didn't get any help from flying reindeer.
Silvia Serafini (22) led the Santa Claudias home in an excellent time of 1:22:27.
The route consisted of a 2km loop through Belluno's historic centre, followed by an undulating loop on mixed terrain through a rural area, and finally another short loop through Belluno's old town with its narrow streets and its many picturesque buildings.
There were many highlights on the course, and stunning views of the Dolomiti Bellunesi, but the very best came at the end: a chocolate-and-cake party at the finish!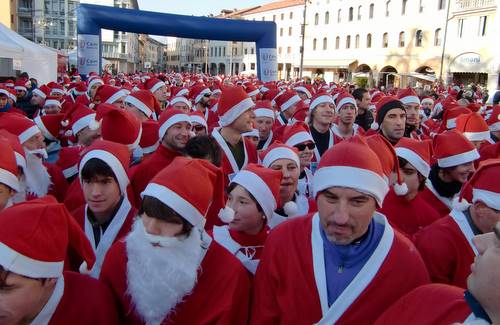 These are the 6K and the 12K runners, ...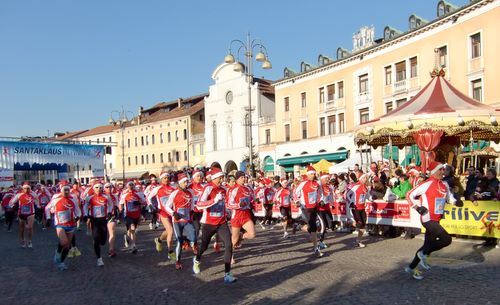 ... and these the half marathon runners at the start in Belluno.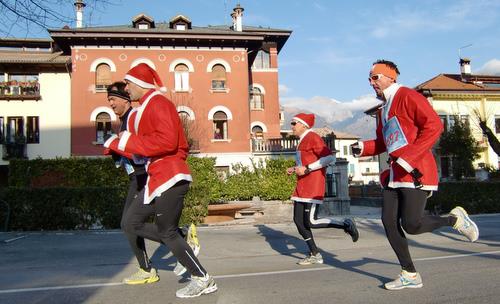 From the course, there were many splendid views of elegant villas and magnificent mountains.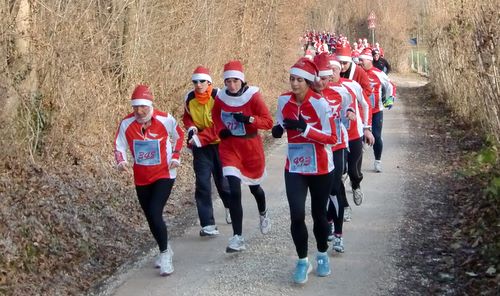 Participants ran through lovely woods, ...
... old villages, ...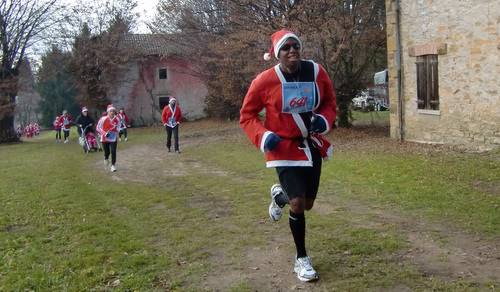 ... uphill through a park, ...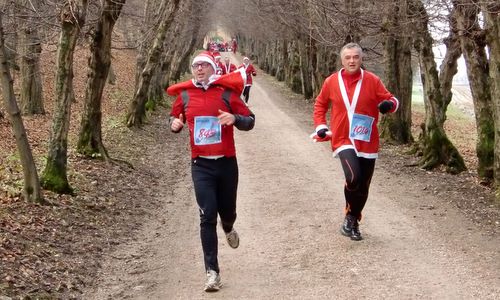 ... and downhill again ...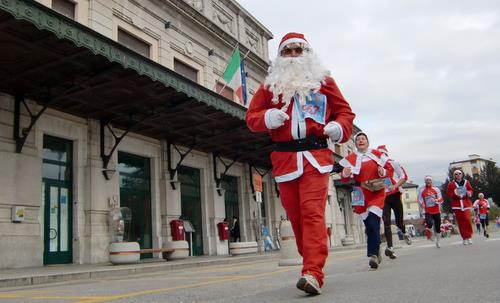 ... to Belluno's railway station ...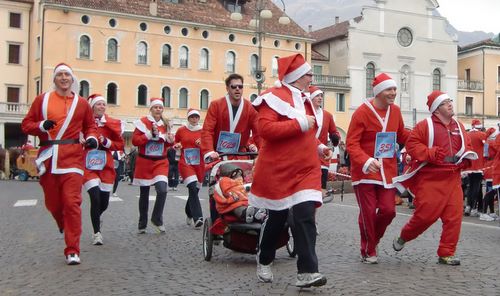 ... and to the finish line in the beautiful town centre.
Results - 4. Santa Klaus Half Marathon 2011

Men
| | | | |
| --- | --- | --- | --- |
| 1. | Nicola Spada | ITA | 1:11:30 |
| 2. | Alessandro Splendore | ITA | 1:14:40 |
| 3. | Abdelaziz Mahjoubi | MOR | 1:15:28 |
Women

| | | | |
| --- | --- | --- | --- |
| 1. | Silvia Serafini | ITA | 1:22:27 |
| 2. | Manuela Moro | ITA | 1:27:24 |
| 3. | Valli Zanatta | ITA | 1:28:35 |
Event details: Santa Klaus Running 2012 (Run International)
Map of the venue: Belluno (Veneto), Italy
Back to: