Sunday 11 December 2022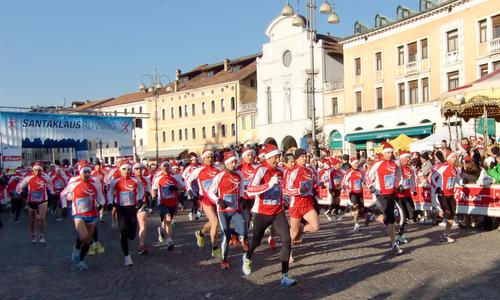 The Santa Klaus Running draws crowds of Santas to Belluno, a 2,200-year-old town that sits in a photogenic location at the foot of the Eastern Dolomites in the Veneto region in Italy, approximately 100 kilometres north of Venice.
It's a marvellous fun event that attracts runners of all abilities.
Here are the options available in 2022:
5km fun run ("non competitiva")
12km fun run ("non competitiva")
12km race ("competitiva")
21.1km half marathon ("competitiva")
The non-competitive runs are open to all runners whereas participants in the competitive races must be registered with a recognized athletics club, or they must provide a medical certificate for athletics at registration.
All routes start and end on Belluno's main square, Piazza dei Martiri (pictured).
The 5k is a loop through the picturesque town centre, suitable for the whole family.
In contrast, the 12k and the half marathon feature challenging multi-terrain routes that take the runners through Belluno's Old Town as well as through rural areas and villages. The difference between the lowest and the highest point on the half marathon course is about 120 metres.
Map of the venue:
16. Santa Klaus Running:
Date:
11 December 2022 (Sunday)
Event website:
Number of finishers:
2022:

5km non-competitiva: 112
12km non-competitiva: 148
12km competitiva: 89
21.1km: 129

2021:
2020:
2019:

12km non-competitiva: 205
12km competitiva: 111
21.1km: 185
Archive:
Race information:
Race report, results and photos:
No guarantee is made as to the accuracy or thoroughness of the information on this page!