11th Gradišče Mountain Run 2011
Gradišče pri Vipavi (Slovenia), Easter Monday 25 April 2011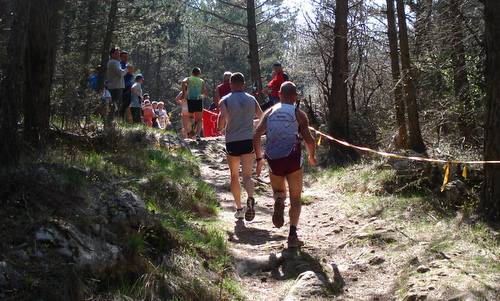 The Gradiški gorski tek is a short mountain running race, held in Slovenia's beautiful Karst region. The route is 4 kilometres long and features 550 metres of elevation gain.
The start is in the village of Gradišče pri Vipavi, situated in the fruit- and wine-growing Vipava Valley, about 2 kilometres from the picturesque small town of Vipava, and around 40 kilometres from the port city of Trieste in Italy.
Competitors run (or walk) on lovely hiking trails up the steep wooded slopes of the massive Nanos Plateau. The finish is on a clearing in the forest.
There are no views from the route or from the finish but there's a great vantage point which you shouldn't miss when you walk back down to the award ceremony in the village.
In 2010, the winners were Simon Alič (22:14) and Mihaela Tušar (30:59).
Race report: 9. Gradiški gorski tek 2009
Country: Slovenia
Venue (Map): Gradišče pri Vipavi (Vipava 2km, Trieste 38km, Udine 73km, Ljubljana 75km)
Date: 25 April 2011 (Easter Monday)
Race distance: 4km (+550m); children 840m (+90m) and 1660m (+150m)
Start time: 10.00 (children); 10.30 (4km)
Start: Kulturni dom, Gradišče pri Vipavi
Entries: on the day
Entry fees: 10 euros; children 5 euros
Race centre: at the basketball field in Gradišče pri Vipavi
You get: transport of personal clothing to the finish, drinks and snacks at the finish and at the award ceremony
Prizes: trophies to the first 3 M/F; medals to the first 3 in each category
Number of finishers 2010: 103 (4km); 30 children
Event website (in Slovene): www.td-burja.com
No guarantee is made as to the accuracy or thoroughness of the information on this page.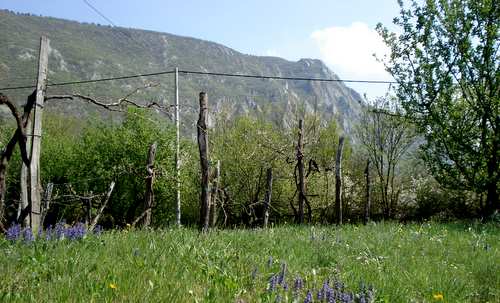 The Nanos Plateau as seen from Gradišče pri Vipavi in the Vipava Valley.