Small country, big numbers
Ljubljana (Slovenia), Sunday 25 October 2009
Iaroslav Musinschi of Moldova in the lead with 800 metres to go
More than 11,000 athletes participated in either the 9.2km run, the half marathon or the full marathon in Ljubljana on Sunday - a huge number in any country but particularly in a small country like Slovenia, which has a population of only 2 million.
The Ljubljana Marathon is the climax of the Slovene running season and few local runners give this massive event in their capital a miss. Even those who usually don't run on the roads take part. Slovenia is a mountainous country and a large number of running events is held on trails in the countryside, much more than in neighbouring countries. Few races are staged in towns.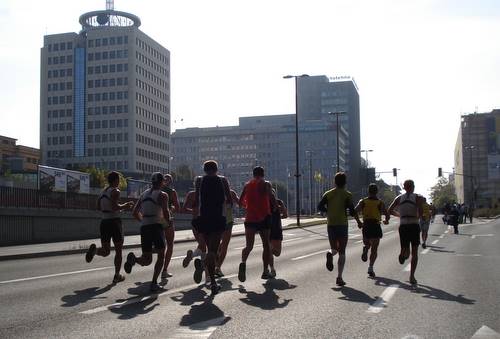 The share of women is impressive. The 9.2km run, which started two hours before the main races, saw more than 50 per cent female finishers, and more than a quarter of the half marathoners were ladies.
With less than 900 finishers, the full marathon was a relatively small race, possibly due to the two-lap course which is quite dull in some parts. The new course is certainly faster than the old one but it incorporates some endless and mentally challenging straights through industrial and residential areas. Ljubljana's beautiful old town with its narrow cobbled streets couldn't accommodate these crowds.
On a day with near-perfect running conditions (crisp and no wind but rising temperatures during the race) the course records tumbled. Six men and three women broke the former records.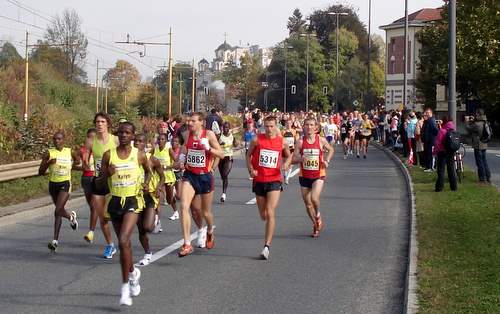 Caroline Cheptonui Kilel of Kenya celebrated victory in the women's marathon in a world-class time of 2:25:24, which was also a personal best. She stayed more than seven minutes under the former course record held by Slovenia's Helena Javornik who is currently banned for two years after testing positive for the blood-booster EPO.
On the men's side, William Biama, also of Kenya, won in a time of 2:10:12, beating Moldovan Iaroslav Musinschi in a sprint finish by 3 seconds.
Slovenia's elite mountain runners Lucija Krkoč (1:18:26) and Mitja Kosovelj (1:07:32) lifted the trophy in the half marathon.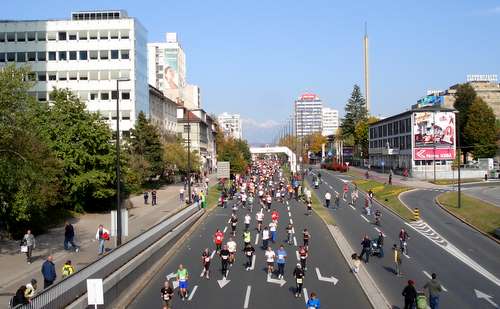 Number of finishers Ljubljana Marathon 2009: 11,034

9.2km: 4703 (2150 men, 2553 women)
21.1km: 5437 (3962 men, 1511 women)
42.2km: 894 (781 men, 111 women, 2 wheelchair athletes)
Photos, results and race reports: 2012, 2011, 2010
Event details: Ljubljana Marathon 2009
Back to: