Rumble in the jungle
Tacen (Slovenia), Saturday 3 October 2009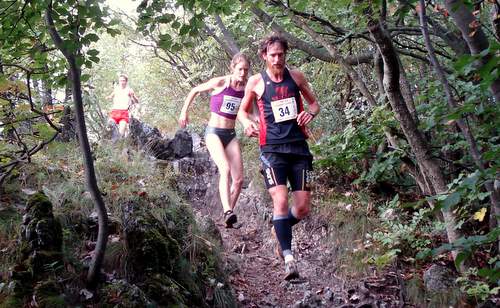 Andrea Mayr (Austria) on the heels of Gilbert Matthew (Wales)
It's only a hill of 669 metres, a popular hiking destination for the city folk of Slovenia's capital Ljubljana, and many experienced mountain runners who are used to climbing more than 1000 metres in the Alps may believe the race to the summit of Šmarna gora is a piece of cake.
True, it features an elevation gain of just 710 metres over a distance of 9 kilometres, but it includes 350 metres of descent as well, and most competitors will agree that this downhill section in the middle of the race is the toughest part. Šmarna gora's narrow forest trails are filled with rocks and roots, and after a night of rain, like this time, they get slippery. The course is highly technical and the gradient changes constantly. Accordingly, runners change position again and again which makes the race exceptionally exciting.
Antonio Toninelli (Italy) in the lead with 500 metres to go to the finish line
For many years, the event has attracted the world's best mountain runners. In this year's jubilee 30th edition, competition was particularly fierce.
New Zealand's seven-times world champion Jonathan Wyatt was in the lead on Grmada, the first peak to climb, but then, on the long downhill section, last year's winner Mitja Kosovelj from Slovenia came from seventh place and surged past all his rivals. However, Italian Antonio Toninelli proved the strongest on the final ascent to Šmarna gora and won the race and a prize cheque of 1000 euros. Robert Krupicka (Czech Republic) got within striking distance but had to be content with second place. He was closely followed by five-times world champion Marco de Gasperi (Italy).
In the women's race Austria's Andrea Mayr, world champion 2008 and Vienna Marathon winner 2009, went off like a rocket and kept the lead to the finish but she missed her own course record by 17 seconds. The other podium positions were hotly contested. Anna Frost of New Zealand was on second place after the first climb, trailed by Mateja Kosovelj and Lucija Krkoč, both from Slovenia. On the downhill section Krkoč took second place but then lost it again to Frost on the way up to the finish.
Kaja Obidič, 18-year-old training partner of Krkoč and Kosovelj, completed a superb performance by the Slovene team by finishing on seventh place.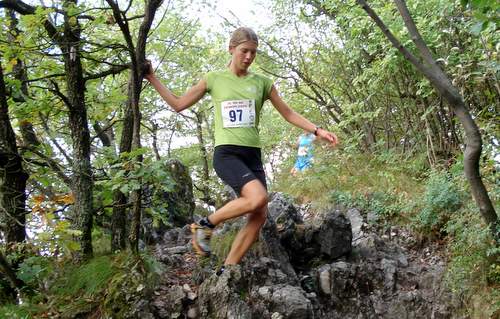 Elegance on rough terrain — Kaja Obidič (Slovenia)
Results: 30. Tek na Šmarno goro 2009
Men
| | | | | |
| --- | --- | --- | --- | --- |
|   1. |  Antonio Toninelli |  1984 |  ITA |  40:03 |
|   2. |  Robert Krupicka |  1981 |  CZE |  40:09 |
|   3. |  Marco de Gasperi |  1977 |  ITA |  40:16 |
|   4. |  Mitja Kosovelj |  1984 |  SLO |  40:24 |
|   5. |  Emanuele Manzi |  1977 |  ITA |  40:38 |
|   6. |  Jonathan Wyatt |  1972 |  NZL |  40:58 |
|   7. |  Andrzej Dlugosz |  1978 |  POL |  41:12 |
|   8. |  Uroš Vodopivec |  1985 |  SLO |  42:45 |
|   9. |  Markus Kröll |  1972 |  AUT |  42:52 |
|  10. |  Costa Eris |  1982 |  ITA |  42:54 |
Women
| | | | | |
| --- | --- | --- | --- | --- |
|   1. |  Andrea Mayr |  1979 |  AUT | 45:41 |
|   2. |  Anna Frost |  1981 |  NZL | 47:19 |
|   3. |  Lucija Krkoč |  1988 |  SLO | 47:35 |
|   4. |  Mateja Kosovelj |  1988 |  SLO | 48:48 |
|   5. |  Maria Grazia Roberti |  1967 |  ITA | 49:46 |
|   6. |  Iva Milesova |  1977 |  CZE | 50:00 |
|   7. |  Kaja Obidič |  1991 |  SLO | 50:26 |
|   8. |  Ursella Laura |  1969 |  ITA | 52:55 |
|   9. |  Emma Clayton |  1988 |  GBR | 54:06 |
|  10. |  Nathalie White |  1982 |  GBR | 54:54 |
Full Results 2009: Timing Ljubljana
Race report and photos: 2010
Back to: