Down and up and down and up and so on and so forth
Radatovići - Sošice (Croatia), 5 September 2009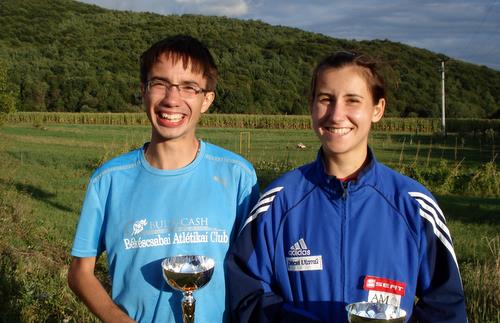 Tamás Oláh and Réka Bátai, both of Hungary, winners of the Žumberačka utrka 2009
Getting to the small village of Sošice in the Žumberak hills involves a long and scenic uphill drive on a narrow winding road. Most runners take the bus that brings the competitors for free from Zagreb to this remote corner in northern Croatia.
It's an amazingly beautiful area with many isolated villages, half-timbered cottages and old mills scattered between steep wooded hills and gorges, caves and waterfalls, vineyards and small plots of corn and vegetables.
In Sošice you also get the rare opportunity to see a Catholic and a Greek Catholic church standing side by side.
However, the region suffers badly from depopulation. Just about 90 inhabitants now live in Sošice, and large strips of agricultural land have fallen into disuse.
The Greek Catholic church behind the Catholic church in Sošice
Every year on the first Saturday in September the 15.5km "Žumberačka utrka" road race brings the village to life. This year, 131 runners from six countries crossed the finish line. In addition, 60 children competed over distances of up to 1000 metres.
Many runners come for the beauty of the landscape, others love the food after the race. Three pigs were roasted on an enormous grill, and there was no shortage of beer. Vegetarians were served home-made cheese and locally-grown tomatoes and peppers.
The race starts in the village of Radatovići with a long and steep downhill section, followed by a moderate climb and then, well, it's an endless up and down through the wilderness. The course is very demanding and never flat.
Pozor!!! Atletska trka (Watch out!!! Running event)
The event had seen four Hungarian winners in the past, and once again two athletes from Hungary's huge pool of highly-talented young runners proved the strongest.
Tamás Oláh from Békéscsaba, 20 years old, was in a group of six runners over the first four kilometres but then one after the other dropped from his heels. At the end not even his compatriot Béla Horváth (33), winner of the Zagreb Marathon 2003, could follow. Oláh led the field home in 0:54:38. Croatia's marathon record holder Drago Paripović, three-time winner of the Žumberak race, finished third. At the age of 50, he is in outstanding shape and still one of the best Croatian road runners.
Réka Bátai, winner of this year's downhill Gletschermarathon in Austria, showed that she can run up the hills with ease as well. The 26-year-old pharmacist from Pécs won by a comfortable margin in 1:02:48, exactly the same winning time as last year when Anissa Badis, also of Hungary, lifted the trophy. Marija Vrajić, currently Croatia's most successful marathon and ultra marathon runner, came second, ahead of Slovenia's masters athlete Jana Strahinič (45).
Results 14. Žumberačka utrka 2009:
Men
| | | | | |
| --- | --- | --- | --- | --- |
| 1. | Tamás Olah | 1988 | HUN | 54:38 |
| 2. | Béla Horváth | 1976 | HUN | 55:24 |
| 3. | Drago Paripović | 1959 | CRO | 55:50 |
| 4. | Norbert Somogyi | 1986 | HUN | 56:12 |
| 5. | Nedeljko Ravić | 1965 | CRO | 56:36 |
Women
| | | | | |
| --- | --- | --- | --- | --- |
| 1. | Réka Bátai | 1983 | HUN | 1:02:48 |
| 2. | Marija Vrajić | 1976 | CRO | 1:05:25 |
| 3. | Jana Strahinič | 1964 | SLO | 1:08:26 |
| 4. | Sanja Begović | 1973 | CRO | 1:09:13 |
| 5. | Mirjana Kolar | 1975 | CRO | 1:11:51 |
Full results: Results 2009
Map: Sošice, Žumberak
Details on the event: 14. Žumberačka utrka 2009
Back to: