Virovitica (Croatia) - Barcs (Hungary), Saturday 18 September 2010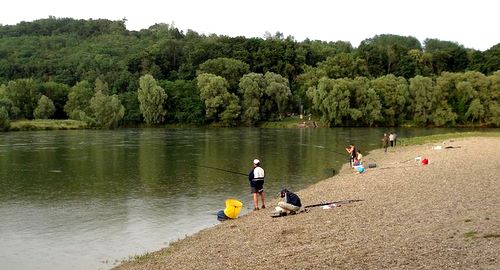 Croatia is on this bank of the River Drava, Hungary on the other side.
19. Határfutás
19. Polumaraton Virovitica-Barcs
The 'Border Race', held annually in September, travels across the border of Croatia and Hungary.
Participants can choose between two race distances. Both races alternate in direction each year.
The 21.35-kilometre route connects the twin towns of Virovitica (Croatia) and Barcs (Hungary).
In 2010, the start will be in Virovitica, a small town with a population of 22,000 and a castle which is surrounded by a moat and a Baroque park.
The finish will be in Barcs (12,000 inhabitants) at the thermal spa complex with its indoor and outdoor pools.
The 5.8-kilometre race starts on the Croatian side of the border and also finishes in Barcs.
The route through fields and villages is very flat and fast, but it's not traffic-free.
Every year, the event attracts a number of top athletes, notably from Hungary. In 2009, the winners were Ashenafi Erkolo of Ethiopia (1:08:40) and Hungary's Ida Kovács (1:21:07).
Country: from Croatia to Hungary
Venue (Map): Virovitica - Barcs (distance from Barcz: Varaždin 120km, Zagreb 150km, Budapest 264km)
Date: 18 September 2010 (Saturday)
Race distance: 21.35km; 5.8km
Start (21km): 14.00 at the town council in Virovitica (Croatia)
Start (5.8km): 14.30 in Terezino Polje (Croatia)
Finish: in Barcs (Hungary) at the thermal spa complex (Termálfürdő)
Entries: by e-mail until 16 September 2010 (see Contact below); no entries on the day!
Entry fees: Croatia: no entry fees; Hungary: 800 HUF (ca. 2.80 EUR)
Race centre: at the spa complex in Barcs (on the day until 12.00); at the town council in Virovitica (until 13.00)
You get: timing chip rental; bus service from Barcs and Virovitica before and after the race; T-shirt; a warm meal after the race
Prizes: prize money to the first 6 M/F in the half marathon; medals to the first 3 in each category, trophies to category winners
Presentation: 16.00
Number of finishers 2009: 85 (21km), 86 (5.8km)
Details: hunrun.com (in Hungarian), champstat.hr (in Croatian)
Photo gallery: barcs.hu
Tourist information (in Hungarian, Croatian and German): www.barcs.hu/termal
No guarantee is made as to the accuracy or thoroughness of the information on this page.