4th Vodiška Planina Mountain Race
Lipnica, near Kropa (Slovenia), Sunday 19 September 2010
A short race up the Jelovica Plateau.
Staged on the eastern edge of the Julian Alps in Slovenia, this uphill trail race features a relatively short but steep course. The route climbs 665 metres in less than 5 kilometres.
Start is in the village of Lipnica at the foot of the densely wooded Jelovica Plateau.
The first 400 metres are on asphalt and a short section is on a dirt road, but apart from that the route runs all the way along trails through the forest. After rain the course can be a bit muddy.
Finish is at the mountan hut "Partizanski dom" on the Vodiška planina mountain pasture, where all finishers will be treated to a hearty meal.
After the award ceremony and the prize raffle participants will have to walk back down to the valley.
As the race forms part of the Slovenian Mountain Running Cup (and as there's a number of prizes to the top finishers) the event is again expecting a strong field of mountain runners.
In 2009, the winners were Mitja Kosovelj (28:17) and his sister Mateja Kosovelj (33:44).
Race report and photos: 3. Tek na Vodiško planino 2009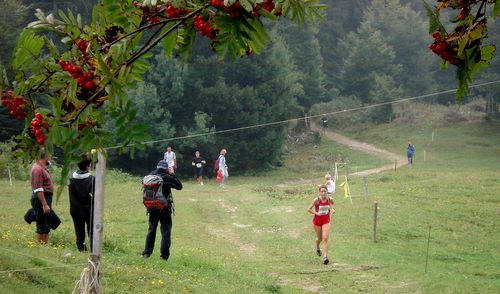 The finishing straight on the Vodiška planina mountain pasture.
Country: Slovenia
Venue: Lipnica (Kropa 2km, Bled 15km, Ljubljana 43km, Klagenfurt 56km)
Date: 19 September 2010 (Sunday)
Distance: 4.845km (+665m)
Start: 11.00 at the primary school in Lipnica (Osnovna šola Staneta Žagarja)
Finish: at the mountain hut on Vodiška planina (1120m)
Entries: on the day at the start (8.00-10.00)
Entry fees: 10 EUR
You get: transport of personal clothing to the finish (at 10.10); T-shirt, tea, fruit, a warm meal after the race, prize raffle
Prizes: trophies/prize money/practical prizes to the first 10 men and 6 women
Award ceremony: 12.30 at the finish
Number of finishers 2009: 86
Event website (in Slovene): Atletsko Društvo Olimpik (out of date)
Tourist information: There's not very much to see in Lipnica itself but the interesting old iron-forging village of Kropa is just two kilometres away. It's also just eight kilometres to the pretty town of Radovljica, which is situated on a terrace above the River Sava, and 15 kilometres to Lake Bled, Slovenia's most popular alpine tourist destination.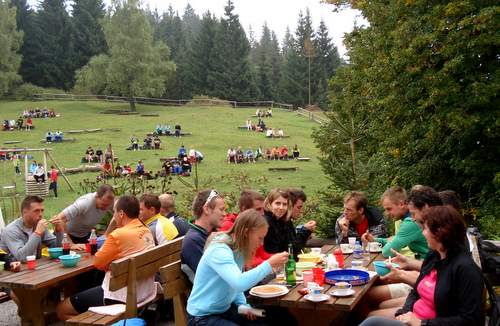 Lunch at the Partizanski dom mountain hut.