Is there a better prize than chocolate?
Lipnica near Kropa, 20 September 2009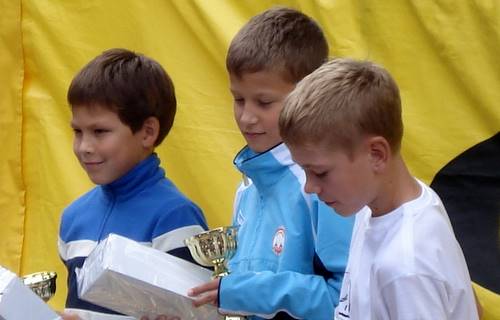 Many finishers clearly envied the elite athletes among the young mountain runners who were awarded with trophies and delicacies from the local chocolate factory. Not that the fastest men and women in the main race didn't receive any prizes, but they didn't get any chocolate.
Despite this injustice the competition was fierce. Almost all Slovene mountain running internationals of the last years had assembled at the start line, and they got under immense pressure from many young talents who hope to represent their country in the future.
Overall 19 out of 85 participants were juniors under 20 years old, and another 25 children raced over distances of 500m and 2000m, starting closer to the finish.
But don't think the course was easy. It included 665 metres of vertical gain over a 4.8km route, and some sections were so steep that most competitors were reduced to walking. Just the first 300 metres and the finishing straight were flat. Most of the race was on forest trails, and a shorter section on a dirt road.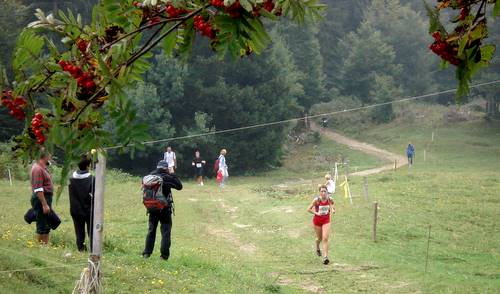 Vodiška planina
The finish of all races was at an elevation of 1120 metres on Vodiška planina, a lovely mountain pasture on the densely forested Jelovica Plateau.
During World War Two, this plateau at the eastern edge of the Julian Alps had been an area of retreat for the communist-led resistance movement of the Partisans, and accordingly the mountain hut on Vodiška planina has been named Partizanski dom, the "Partisan's home".
At the mountain hut the hungry finishers were treated with plenty of cakes, fruit and tea, and later with a very hearty, meaty soup.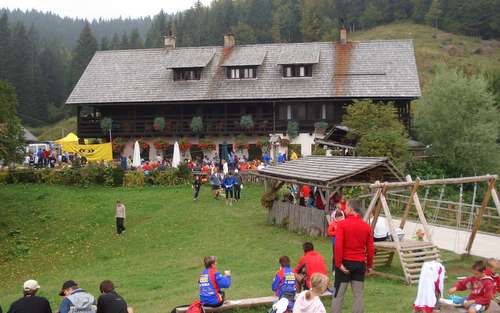 Partizanski dom
Mitja Kosovelj (25) and his sister Mateja Kosovelj (21), both currently the most successful Slovene mountain runners, won their races from the front. After the start in the village of Lipnica they went straight to the lead and remained there. The young athletes from Nova Gorica, a small town on the Italian border, have shown in recent races that they are in excellent shape, and they hope to do very well again in the international "Šmarna gora mountain race" on October 3. Mateja won the event in 2005 and 2006, Mitja in 2008.
On second place came Simon Alič (38), a very experienced international mountain runner who also takes part in mountain bike races, and the 18-year-old hopeful Kaja Obidič.
Slovenia's 5000m track representative Peter Letnar (30) and trail running specialist Valerija Mrak (38) won the bronze medals.
Simon Alič, Mitja Kosovelj and Peter Letnar (from left to right)
Results Tek na Vodiško planino 2009 (4.845km, + 665m):
Men
| | | | |
| --- | --- | --- | --- |
| 1. | Mitja Kosovelj | 1984 | 28:17 |
| 2. | Simon Alič | 1971 | 28:57 |
| 3. | Peter Letnar | 1979 | 29:30 |
| 4. | Peter Oblak | 1989 | 29:43 |
| 5. | Peter Kastelic | 1983 | 30:09 |
Women
| | | | |
| --- | --- | --- | --- |
| 1. | Mateja Kosovelj | 1988 | 33:44 |
| 2. | Kaja Obidič | 1991 | 35:10 |
| 3. | Valerija Mrak | 1971 | 36:08 |
| 4. | Mihaela Tušar | 1966 | 36:36 |
| 5. | Petra Race | 1975 | 39:08 |
Event details: 3. Tek na Vodiško planino 2009
Map of the venue: Lipnica near Kropa
Back to: