Ultra Marathon Logar Valley 2010
Celje - Logarska dolina (Slovenia), Saturday 4 September 2010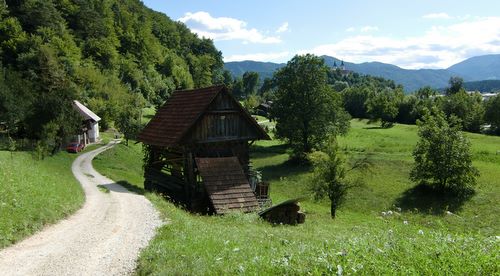 Some sections are on trails (this is between Mozirje and Nazarje).
Held every year on the first Saturday in September, this popular running event in Slovenia offers a number of scenic races, from 17 to 75 kilometres long.
The 75km ultra marathon travels from the town of Celje along the beautiful Upper Savinja Valley into the Kamnik-Savinja Alps. The shorter races start en route.
All races finish in Logarska dolina, a 7km-long picture-postcard glacial valley.
The route is undulating and runs upstream beside the River Savinja. It features an elevation gain of approximately 550 metres over the full 75 kilometres.
Some sections are on dirt roads and trails. The roads are not closed to traffic.
In 2009, the event had overall 730 finishers from 7 countries. The ultra marathon winners were Danny Thewes (5:39:33) and Bärbel Lemme (6:51:30), both of Germany.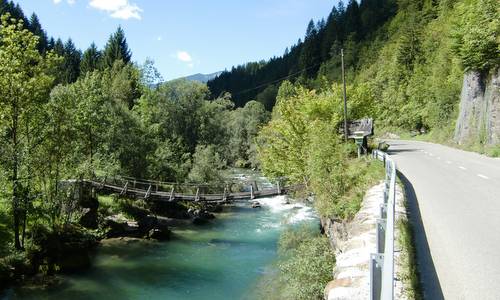 The route follows the River Savinja.
Country: Slovenia
Venue (Map): Celje - Mozirje - Ljubno - Luče - Logarska dolina
Date: 4 September 2010 (Saturday)
Distance: 75km*; start at 6.00 in Celje on "Trg celjskih knezov"
Distance: 42.km; start at 9.00 in Mozirje at the park "Mozirski gaj"
Distance: 27km; start at 10.30 in Ljubno
Distance: 17km; start at 11.30 in Luče
Finish: Logarska dolina ("Logar Valley"), Penzion "Na Razpotju"
* Runners who start in Celje can finish the race (with timekeeping) in Mozirje (33km) or in Luče (58km).
Entries: advance entries online until 31 August 2010, payment by bank transfer (foreigners can pay the entry fees on the day); late entries until 1 hour before the start
Entry fees (75km): 25/30 EUR (until 31 Aug/until 4 Sep)
Entry fees (42km): 20/25 EUR
Entry fees (17/27km): 15/20 EUR
Race centre: Taborniško društvo Celje, Gledališka ulica 2, Celje (near the hotel "Turška mačka") on Friday from 14.00 to 21.00 and Saturday from 4.30 to 5.45; 75k runners get their race number in the race centre, participants in the shorter races get it at the start (one hour before the start)
You get: T-Shirt, lunch, transport of personal clothing to the finish, bus service from Celje to the start areas (at 7.00), bus service back to Celje (in the afternoon)
Prizes (75km): practical prizes to the first 6 men and 3 women (time limit!); first 3 in each category
Prizes (17/27/42km): trophies to the first 3 M/F
Presentation: 16.00 at the finish
Number of finishers 2009: 162 (75km), 7 (58km), 75 (42km), 30 (33km), 85 (27km), 371 (17km)
Event website (in English, German and Slovene): www.drustvo-maratoncev-celje.si
No guarantee is made as to the accuracy or thoroughness of the information on this page.
Between Ljubno and Luče, you'll pass loads of apple trees.