6th Casino Run Velden
Velden am Wörthersee (Austria), Tuesday 26 October 2010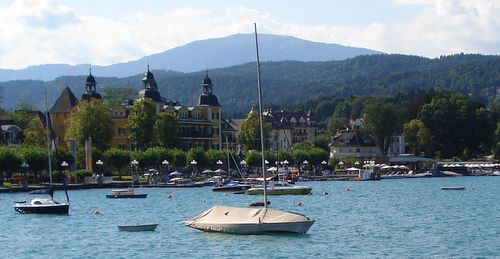 This relatively small running event takes place in the ritzy resort of Velden, situated at the western end of the Wörthersee in southern Austria.
It is held on Austria's National Day, which is celebrated on October 26th.
The route is 6.5 kilometres, starting and finishing at the casino.
Competitors run five laps of a 1.3-kilometre course through Velden's town centre and along the Seepromenade.
In 2009, the winners were Gernot Hammer (21:12) and Michaela Zwerger (25:32).
The event is also open to 5-person relay teams. Each member runs one lap.
Country: Austria
Venue (Map): Velden am Wörthersee (Klagenfurt 22km, Ljubljana 102km, Udine 137km)
Date: 26 October 2010 (Tuesday, public holiday in Austria)
Race distance: 6.5km; 5x1.3km relay; children 0.3/0.5/0.8/1.3/2.6km
Start time: 10.00-10.30 (children); 11.00 (6.5km and relay)
Start and finish: at the Casino Velden
Entries: online until 22 Oct; late entries on the day
Entry fees (6.5km): 10/12/15 EUR (until 30 Sep/22 Oct/26 Oct)
Entry fees (relay teams): 45/48(?) EUR (until 22 Oct/26 Oct)
Timing: ChampionChip - use your own chip or rent a chip for 3 EUR (30 EUR deposit)
Race centre: Casino Velden (25 Oct 16.00-19.00, 26 Oct 8.00-9.00)
You get: a meal and a drink after the race; prize raffle
Prizes: first 3 in each category
Showers and changing facilities: Eishalle Velden, Köstenberger Strasse 3
Award ceremony: 12.00
Number of finishers 2009: 112; 9 relay teams; 32 children
Event website (in German): www.s-a-w.at (out of date)
No guarantee is made as to the accuracy or thoroughness of the information on this page.