Preview: 5th International Mountain Race 'Merano 2000'
Schenna/Scena (Italy), Sunday 30 May 2010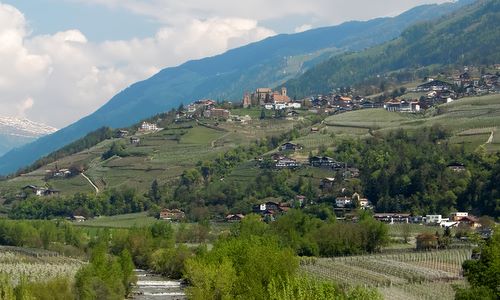 The start of the race is in the village of Schenna/Scena, near Merano.
This is a tough uphill-only mountain race, held at the end of May in South Tyrol in the Alps. Although part of Italy, German is the prevalent language in this province.
The race features an elevation gain of 1300 metres over a 10 kilometre route.
The start is in the village of Schenna (Italian: Scena), which is located about 4 kilometres from Meran (Merano), a spa town that is widely known for its mild climate and Mediterranean vegetation.
The finish is at an elevation of 1900 metres in the ski area of Meran 2000.
The terrain varies from asphalt and dirt roads to mountain trails and ski slopes.
In 2009, the winners were seven-times mountain running world champion Jonathan Wyatt of New Zealand (1:16:15) and Italy's Antonella Confortola (1:12:53).
Meran 2000 as seen from Meran.
Country: Italy
Venue (Map): Schenna / Scena (32km from Bolzano, 153km from Innsbruck, 180km from Verona)
Date: 30 May 2010 (Sunday)
Race distance: 10km (+1300m)
Start: 9.30 in Schenna (584m)
Finish: Piffinger Köpfl, Meran 2000 (1905m)
Entries: advance entries online or by fax (payment by bank transfer); late entries in the race centre
Entry fees: 10 EUR (until 31 December 2009), 15 EUR (until 30 April 2010), 20 EUR (until 27 May), 25 EUR (late entries)
Race centre: Tourist Office Schenna (Saturday 29 May 14.30-18.00); at the start (on the day 7.30-8.30)
You get: transport of personal clothing to the finish; cable car/bus service to Schenna (after the race)
Prizes: prize money to the first 15 men, 5 women, and first 3 in each category (prizes are not cumulative); prize money to the 3 largest clubs
Presentation: 13.30
Number of finishers 2009: 140
Event website: www.telmekomteam.com/de/rennkalender/wmra-grand-prix/programm
No guarantee is made as to the accuracy or completeness of the information on this page.