12th Puster Valley three-quarter half marathon 2010
Bruneck/Brunico - Sand in Taufers/Campo Tures (Italy), Sunday 29 August 2010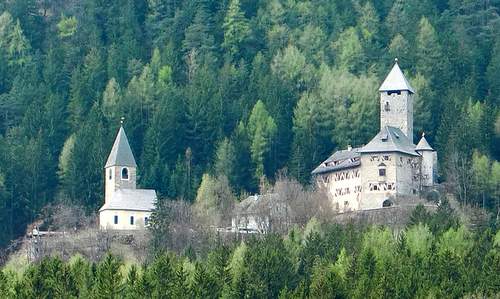 Neuhaus Castle is just one of the castles along the route.
This popular and well-organized 17.6km race runs along the Tauferer Valley in South Tyrol, Italy's northernmost and largely German speaking province.
The race starts off in the attractive historic town centre of Bruneck in the Puster Valley.
The fnish is in the holiday and ski resort of Sand in Taufers under the majestic Taufers Castle.
The undulating, traffic-free route follows roads and cycle paths and is overall mildly uphill. A few hundred metres are on a trail.
Snow-capped mountain peaks and several castles on the hillsides provide an impressive backdrop.
Over the years many strong runners have taken part in the event.
In 2009, Said Boudalia (55:48) and Carla Verones (1:05:48) both set new course records.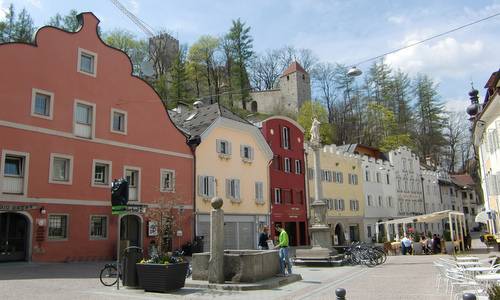 Start of the race is in Bruneck (Brunico).
Country: Italy
Venue (Map): Bruneck/Brunico (Innsbruck 106km, Villach 175km, Ljubljana 276km)
Date: 29 August 2010 (Sunday)
Race distance: 17.6km
Start: 10.00 Bruneck/Brunico, Rathausplatz (835m); wheelchairs 9.55
Finish: Sand in Taufers/Campo Tures (870m)
Entries: advance entries online (until 27 August 2010, 18.00h) or by telephone or fax; payment in the race centre; late entries on the day
Entry fees: 16 EUR (until 27 August), 21 EUR (late entries); you must pay an additional 5 EUR if you are not a member of an Italian athletics club
Race centre: Alte Turnhalle ("Old Sports Hall") on Rathausplatz in Bruneck (Saturday 28 August 17.00-18.00, on the day from 8.15)
You get: bus service from the finish to the start (before the race at 8.25); transport of personal clothing to the finish; timing chip rental; free massage; 2.5kg of local potatoes; prize raffle
Prizes: prize money to the first 5 M/F; practical prizes to the first 3 in each category
Showers and changing facilities: in the sports hall, ca. 1km from the finish (free bus service)
Award ceremony: 14.00 at the finish
Number of finishers 2009: 448
Event website (in German and Italian): www.3viertelhalbmarathon.com