Preview: 3rd Vodiška Planina Mountain Race
Lipnica near Kropa (SLO), Sunday 20 September 2009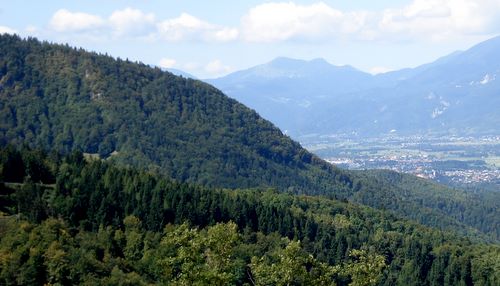 The Jelovica Plateau (left) with Radovljica and the Karavanke mountain chain in the background
Organized by four mountain runners with lots of experience on international trails, this event in the Alps has quickly gained in importance. After only two years it has been included in the Slovene Mountain Running Cup, and this year it will surely see many more competitors than in previous years.
It's a relatively short and steep race with an elevation gain of 665m in 4.8km - an average gradient of almost 14 per cent.
The start is near the old iron-mining village of Kropa at the foot of the densely wooded Jelovica Plateau, about 8km from the charming small town of Radovljica on the River Sava.
After 600m on asphalt roads the race travels on marked trails and dirt roads through the forest to the finish on the mountain pasture Vodiška planina.
Children run shorter distances (500m or 2000m) and start a bit higher up the course.
After the race, all runners will enjoy a warm meal and folk music at the mountain hut "Partizanski dom".
The course records are held by Simon Alič (26:20) and Mihaela Tušar (34:50).
Race report and photos: 3. Tek na Vodiško planino 2009
Country: Slovenia
Venue: Lipnica, near Kropa (Radovljica 8km, Ljubljana 42km, Klagenfurt 54km, Udine 154km)
Date: 20 September 2009 (Sunday)
Distance: 4.845km (+665m)
Start: 11.00 in Lipnica at the primary school Stane Žagar
Finish: Vodiška planina (1120m)
Entries: on the day at the start (from 8.00 to 10.00)
Entry fees: 10 EUR
You get: T-Shirt, transport of personal clothing to the finish (at 10.10); tea and fruit at the finish; a warm meal after the race
Prizes: first 10 men and 6 women; medals to the first 3 in the categories
Presentation: 12.30 at the finish
Number of finishers 2008: 32
Event website (in Slovene): Atletsko Društvo Olimpik (out of date)