10a Maratonina Città di Udine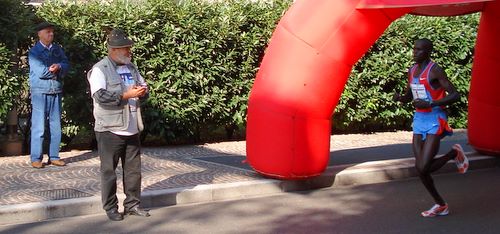 Benson Barus on his way to his phenomenal course record in 2008.
Although mildly undulating, the course in Udine is incredibly fast.
In 2008, Benson Barus (28) of Kenya clocked a superb 59:41, which was the 13th fastest time in the world that year. His compatriot John Kiprotich, just 19 years old, finished 3 seconds behind. Hungary's Anikó Kálovics secured victory in 1:10:18, closely followed by two Ethiopians and a Kenyan athlete.
The start and finish are in the appealing historic centre of Udine, with almost 100,000 inhabitants the largest city in the Friuli area. The old town with its many well-preserved historic buildings, elegant piazzas, excellent galleries, and the Castello on top of a hill is well worth a visit.
The race starts off on a quite narrow street at the Duomo, which houses works by the great Venetian painter Gianbattista Tiepolo, and then travels across the magnificent Piazza Libertà to the northern suburbs. After a long lap through the densely populated area in the north of Udine the race takes you back to the centre and on the ring road around the old town.
The finish is in Via Mercatovecchio, the "old market street", where Udine's first market was held in the 13th century.
Race report, results and photos: Udine Half Marathon 2010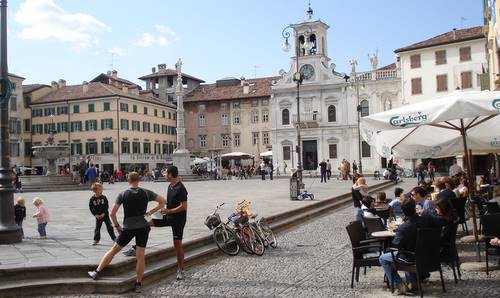 Piazza Matteotti, a nice place for a stretch
Country: Italy
Venue (Map): Udine (77km from Trieste, 130km from Venice, 150km from Ljubljana, 160km from Klagenfurt)
Date: 27 September 2009 (Sunday)
Race distance: 21.1km (certified by IAAF); 7.15km ("StraUdine", non-competitive race)
Start time: 9.30 (women's half marathon); 9:37 (men's half marathon); 11.00 (7.15km)
Start: Via Vittorio Veneto (in the city centre)
Finish: Via Mercatovecchio (close to the start)
Entries: online (payment by credit card); by mail, fax or e-mail (payment by bank transfer); in person in Udine (payment by cash)
Entry fees (21.1km): 13 EUR (until 6 September), 14 EUR (until 13 September), 25 EUR (until 25 September), 50 EUR (on 26 September); reductions for teams; no entry fees for athletes with disabilities
Deposit for chip rental (for all athletes): 10 EUR (refundable after the event)
Entry fees (7.15km): 8 EUR
Race centre: Piazza Libertà (Saturday, 26 September, from 9.00 to 20.00 and on the day from 7.00 to 8.30)
You get: goody bag, souvenir, pasta party after the race, baggage storage, showers
Prizes (half marathon): first 20 men and 10 women; first 3 M/F in the categories; prizes are not cumulative
Number of finishers 2008: 1118
Event Website (in Italian and English): www.maratoninadiudine.it
No guarantee is made as to the accuracy or thoroughness of the information on this page.