Koper (Slovenia) - Muggia (Italy), Sunday 20 September 2009

The route of the Euromarathon offers fine views of the port of Trieste.
This cross-border half marathon runs from Koper, Slovenia's only commercial port, along the Adriatic coast to the charming small town of Muggia in Italy.
The start line is on Koper's Titov trg (Tito Square) in front of the stunning Praetorian palace. After a lap around the medieval old town the race travels through industrial suburbs to the seaside resort of Ankaran, then through vineyards, across the border and along the coastal road to the finish at the small harbour in Muggia.
The undulating route is closed to traffic and offers marvellous views of the Gulf of Trieste.
The event includes a relay race for two runners (2x10.5km) and a 9k fun run ("EuroJogging") from Ankaran to Muggia.
In 2008, the top finishers were Ahmed Nasef (1:05:31) and Daniela da Forno (1:21:36).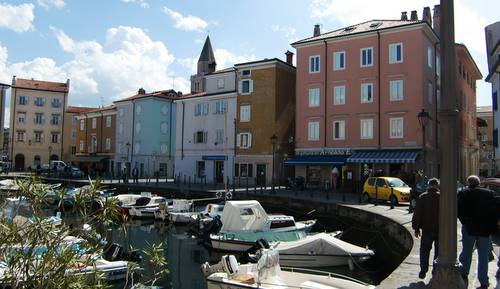 The finish line is in Muggia.
Race information:
Country: Slovenia - Italy
Venue (Map): Koper - Muggia
Date: 20 September 2009 (Sunday)
Distance: 21.1km; 2x10.5km relay; 9km "EuroJogging" (non-competitive)
Start (21km and relay): 9.30 Koper (Italian: Capodistria) on Titov trg
Start (9km ): 9.45 Ankaran
Finish: Muggia (Slovene: Milje), Riva de Amicis
Entries: online (see event website: "iscrizioni"; payment by credit card); by fax or e-mail (payment by bank transfer)
Entry fees (21km): 11 EUR (until 31 August), 16 EUR (until 17 September)
Entry fees (relay): 16 EUR (until 31 August), 21 EUR (until 17 September)
Entry fees (9km): 5 EUR (until 31 August), 7 EUR (until 17 September)
Timing: microchip (10 EUR deposit)
Race centre: Ricreatorio F. Penso, Piazza della Repubblica 8, Muggia (on Friday and Saturday from 16.00 to 20.00); on Sunday on Tito Square in Koper (until 9.00)
You get: bus service from the finish to the start (before the race at 7.00 from the car park "Alto Adriatico" or after the race from 12.00 to 15.00); transport of personal clothing from the start to the finish (9.00 from Koper, 9.10 from Ankaran); pasta party (11.45), goody bag; T-Shirt to the first 300 entries
Prizes: first 10 men and 5 women; first 3 in the categories; first male, female and mixed relay teams; the 10 largest groups; prizes are not cumulative
Presentation: 11.30 (first 10 men and 5 women); 12.30 (relay teams, categories and groups)
Number of finishers 2008: 421 (results 2008)
Event Website (in Italian, Slovene and Croatian): EuroMarathon
Tourist information: Muggia
No guarantee is made as to the accuracy or completeness of the information on this page! Please use an alternative source to verify the above information.