Race preview: 7th Palmanova Half Marathon
Sunday 22 November 2009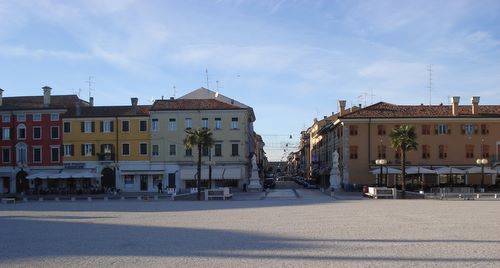 Piazza Grande, Palmanova's central square
In November, most of Central Europe is sunk in mist and gloom and the race season has come more or less to a close. There is, however, a very popular running event in the north-east of Italy on the plain between the Adriatic and the Alps. More than 1800 runners took part last year.
The half marathon around the interesting small town of Palmanova, just 20km from the Laguna di Grado, comes at the right time to get some sunshine and enjoy the Mediterranean climate.
In addition, the race offers a good chance to run a personal best. The rural course is incredibly flat and fast, and nice as well. Unfortunately, it's not certified.
The start is at the monumental "Porta Cividale" within the massive Venetian fortress town of Palmanova, built in 1593 in the form of a nine-pointed star and surrounded by a moat. You run across the vast hexagonal Piazza Grande and leave the town through "Porta Udine". You then go on a loop through fields and pretty villages to the north of Palmanova. The Alps provide a majestic backdrop.
The event is very popular with runners from neighbouring countries. In 2008, 313 Slovenes, 28 Austrians and 7 Croats crossed the finish line in the athletics stadium on the edge of town. On a crisp and sunny day, a total of nine runners finished under 70 minutes. Slovenia's Mitja Kosovelj took first in 1:06:59. His sister Mateja Kosovelj led the women home in 1:19:34.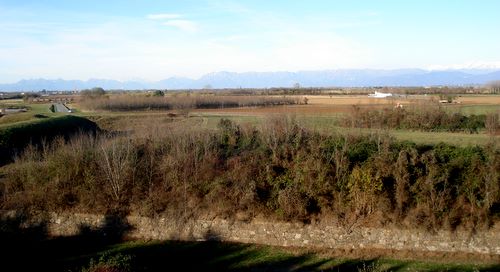 The plain is pancake flat around Palmanova
Country: Italy
Venue (Map): Palmanova (Udine 20km, Trieste 55km, Venezia 110km, Ljubljana 131km)
Date: 22 November 2009 (Sunday)
Distance: 21.1km
Start: 10.00 within the fortress at the town gate "Porta Cividale"
Finish: on the athletics track in the north-western part of Palmanova
Entries: online (payment by credit card; an additional handling fee will be charged) or by post or fax; entries close 18 November; payment by bank transfer (foreigners can pay the entry fees on the day)
Entry fees: 12 EUR (until 4 November), 17 EUR (until 18 November)
Race centre: on Saturday from 15.00 to 18.00 on Piazza Grande; on the day from 7.30 to 9.00 at the sports complex in the north-east of town
You get: chip timing, a present, pasta party after the race
Prizes: first 10 M/F; category prizes
Showers and changing facilities: yes
Presentation: 13.30
Number of finishers 2008: 1808; 14 handcyclists
Event website (in Italian): www.espalmanova.it
No guarantee is made as to the accuracy or thoroughness of the information on this page.