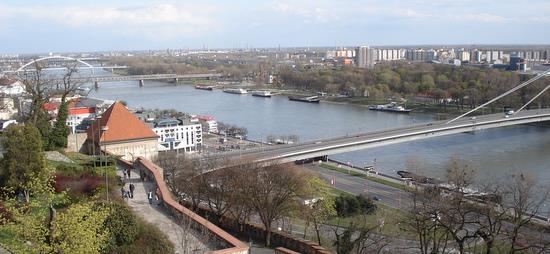 Two bridges to climb: Nový most and Starý most
The very friendly and helpful organizers and staff of the Bratislava Marathon give this event much more of a personal touch than many other big city marathons.
Well, there won't be crowds of people lining the streets to cheer you on but many people will do their best for you to feel very welcome in the Slovak capital.
There will be concerts from Friday to Sunday, a fun park for families, a police car show, school games and lots of running events for all ages and abilities: a toddler's competition, children's races, a waiter's run and an orienteering run in the city centre.
The 5km 'Hobby Run' and the pasta party will be held on Saturday afternoon, and on Sunday the inline race, the marathon, half marathon and relay race. All events are completely traffic-free and well-marshalled. And the entry fees are very agreeable.
The marathon route:
You will start on the graceful, tree-lined Hviezdoslav square and run a short lap of about 5km around the very pretty old city centre. After crossing the huge suspension bridge 'most SNP' (or 'Nový most', the 'New Bridge') over the River Danube you will go on a tour around the vast Petržalka housing estate. You will run back on a cycle path along the Danube, and cross 'Starý most' (the 'Old Bridge') to come home to the grand finish in front of the National Theatre. Marathoners will run two laps.
The route is overall fast and flat but running up to the bridges will slow you down a bit. And beware - some sections of the course are very open, and last year it was quite windy.
Map: Bratislava
Event website (in English, German, and Slovak): www.bratislavamarathon.com