Mohor Mountain Race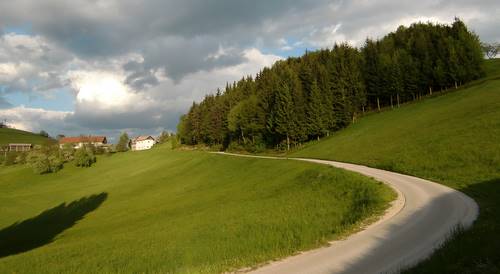 The race up to Mount Mohor is an event for mountain runners and cyclists held in the beautiful hills west of the town of Kranj in the north-western part of Slovenia.
You start in the tiny village of Nemilje at an elevation of 506 metres and run 7km uphill to the church of Sv. Mohor, which is at 952 metres. Most of the route is on dirt roads in the forest, a shorter section is on asphalt. The mountain bikers are usually some minutes faster than the runners but they start 30 minutes after you, so that you can watch them finishing.
In 2008, the first runners on top of Mount Mohor were Boštjan Hrovat (30:17) and Edita Gashi (37:53). The fastest cyclist, Matija Berce, needed just 24 minutes.
Country: Slovenia
Start (Map): Nemilje (506m) (Kranj 12km, Ljubljana 37km)
Finish: Mohor (952m)
Date: 6 June (Saturday)
Start time: 16.00 (children), 16.30 (runners), 17.00 (mountain bikers)
Race distance: ca. 7km (+446m); children will run one, two or three laps of 440m
Entries: on the day from 14.30 to 15.30, for mountain bikers from 14.30 to 16.30
Entry fees: 8 EUR (runners and mountain bikers); 5 EUR (children)
You get: a warm meal, drinks, prize raffle
Prizes: medals to the first 3 in the categories; practical prizes to the winners, the oldest and the youngest competitor
Number of finishers 2008: 150 mountain runners, 67 children, 37 mountain bikers
How to get there: Coming from Kranj city centre cross the River Sava, turn right and follow the road along the river (upstream) to Besnica. Just carry on and you will come to Nemilje after approximately 12km.
Event website (in Slovene): www.agp-pro.si/tek_mohor
No guarantee is made as to the accuracy or thoroughness of the information on this page