'Bovec Race' 2009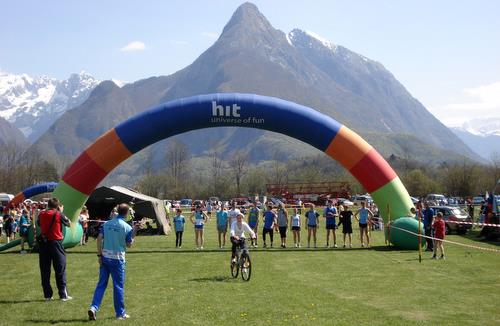 What a beautiful setting for a run! Bovec is a small ski and holiday resort in the lush valley of the crystal clear river Soča and surrounded by mountain peaks of up to 2500 meters. Start and finish are on the airfield, which is a huge meadow covered with countless lovely little flowers.
Those who decide to run the short course of 3.2km will run once around the airfield. The 10km runners will make a detour down to the river for an additional lap on mixed terrain.
And don't miss the children's races - the place will be swarming with kids!!
Race report: Bovški tek 2009
Country: Slovenia
Venue (Map): Bovec (in the far west of Slovenia, close to the Italian border, about 60km from Udine)
Date: 26 April 2009 (Sunday)
Start time: 12.30, children from 10.00; walkers 11.00
Race distance: 3.2km; 10km; children 300m, 500m, 1km, 1.5km
Start and finish: on the airfield in the south of town
Race course: 3.2km: flat, on grass; 10km: hilly, mixed terrain (about 700m on asphalt) (see the course map on the event website)
Entries: on the day until 12.15, children until 9.45
Entry fees: 8 EUR (3.2km and 10km); children 2 EUR; walkers 6 EUR
You get: a present and a hot meal after the race; your race number will be used as a ticket for the prize raffle
Prizes: trophies to the first 3 M/F, medals to the first 3 in the age categories, prize money for a new course record (men: Mitja Kosovelj 32:59; women: Mateja Kosovelj 37:18)
Presentation: approximately 1 hour after the race
Number of finishers 2008: 10km: 125 men, 62 women
Event website (in Slovene): www.tekaskodrustvobovec.si
No guarantee is made as to the accuracy or thoroughness of the information on this page.