Sunday 15 September 2019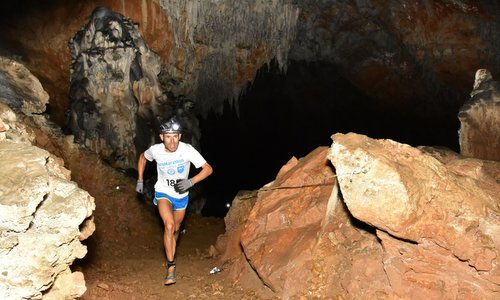 Photo by courtesy of Venčeslav Japelj
The X-Tek Dimnice in Slovenia is a very unusual running event.
It takes runners deep into the Jama Dimnice, a karst cave in the Primorska region, situated about 30 kilometres from the Adriatic port of Trieste and 35 kilometres from the port of Koper.
The race is held in a time trial format. Runners start off in pairs, at two-minute intervals.
The route is 4km long, starting and finishing in the village of Slivje.
Approximately 2.6km of the race (the first 700m and the last 1.9km) are run on undulating asphalt and gravel roads through a beautiful scenery.
The remaining part of the course is inside the cave and very challenging. Participants need to take extra care as the course features 100m of descent, followed by 100m of ascent, and the stairs might be slippery.
Runners must wear a headlamp and a helmet in the cave. They can use their own helmet (bicycle helmet or other) or they can get one, provided by the race organizers, at the cave entrance.
It is highly recommended to wear protective gloves as well.
Map of the venue:
6. X-tek Dimnice:
Date:
15 September 2019 (Sunday)
Event website (in Slovene and Italian):
Archive:
Race information:
You may also be interested in this cave race:
No guarantee is made as to the accuracy or thoroughness of the information on this page.