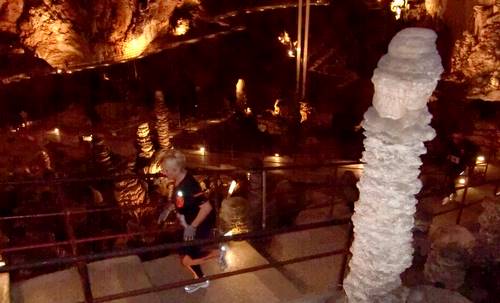 Cronotraversata del Maestro:
This unique multi-terrain time trial race takes runners through the world's largest tourist cave, Grotta Gigante, a truly impressive sight, located near the city of Trieste in the north-eastern corner of Italy.
Participants start off at 30-second intervals at the entrance to the cave.
The route is approximately 1,650 metres long.
The first 800 metres are a flat multi-terrain run on roads and trails through the village of Borgo Grotta Gigante.
The second half of the race is run on the internal staircase of the cave. Competitors run 500 steps down to the bottom of Grotta Gigante (120 metres of elevation change) and then 500 steps up on the other side of the cave.
Runners are well advised to wear protective gloves as the handrails of the staircase might be rough and rusty.
Update (September 2022):
In 2022, the Cronotraversata del Maestro will be replaced by a new trail running event, the Trail delle Grotta Gigante.
Map of the venue:
Number of finishers:
2021: Event cancelled
2020: Event cancelled
2019: 197
Cronotraversata del Maestro 2020:
Date:
22 November 2020 (Sunday) - Cancelled!
Event website:
Archive:
Race information:
Photos and results:
Race report, photos and results:
You may also be interested in this cave race: