Saturday 13 May 2023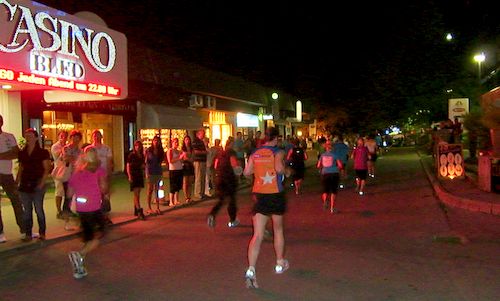 The Nočna 10ka is an annual summer night 10k race around Lake Bled, a picture-postcard alpine tourist destination in the Julian Alps in Slovenia.
Usually, the event attracts a crowd of well over 1,000 runners.
One lap around the lake is six kilometres, so the race is a bit shorter than two laps (6km+4km).
The route is undulating. From start to finish, it includes 170 metres of ascent.
The race kicks off at 9pm in the town centre of Bled. The finish line is at the Rowing Centre Bled (Slovene: Veslaški Center Bled), two kilometres from the start.
Map of the venue:
17. Nočna 10ka:
Date:
Race distance:
400m-800m otroški teki (kids races)
1.2km rekreativni tek (fun run)
10km nočna 10ka ('Night 10k')
Event website:
Number of finishers in the 10k race:
2023: 1,110
2022: 1,171
2021: 406
2020: Event cancelled
2019: 2,165
2018: 2,673
2017: 2,765
2016: 2,878
2015: 2,498
Archive:
Race report, results and photos:
No guarantee is made as to the accuracy or thoroughness of the information on this page.