Sunday 21 August 2022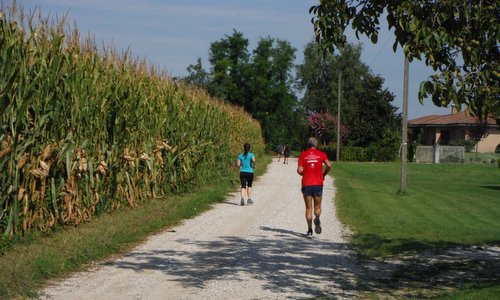 The Marcia 'Blave di Mortean' has quickly become one of the most popular summer sports events in the Friuli area in the north-eastern part of Italy.
It has been well attended since its first edition in 2015 which welcomed a crowd of 1,100 participants.
It is one of the many non-competitive running and hiking events that take place every year under the auspices of FIASP (Federazione Italiana Amatori Sport Per tutti).
FIASP events are events for the whole family, events without timekeeping or results lists. You can run or jog or walk, whatever you prefer.
The Marcia 'Blave di Mortean' offers three very flat routes, approximately 6km, 12km and 18km long.
All routes begin and end in the village of Mortegliano (or Mortean in Friulian, a Romance language that is spoken in the area).
Participants run (or walk) on a mix of asphalt roads, gravel roads and trails through many fields of maize (Friulian: blave), through rural areas and woods, along the Cormor river and past the 113.8m-high Campanile di Mortegliano, Italy's highest bell tower.
Map of the venue:
7. Marcia Blave di Mortean:
Date:
Venue:
Area Festeggiamenti, via Tomba, Mortegliano, Province of Udine, Friuli Venezia Giulia, Italy
Start time:
Event website:
More information (FIASP calendar):
Archive:
Event details:
Event details and more photos:
No guarantee is made as to the accuracy or thoroughness of the information on this page.