Monday 1 May 2023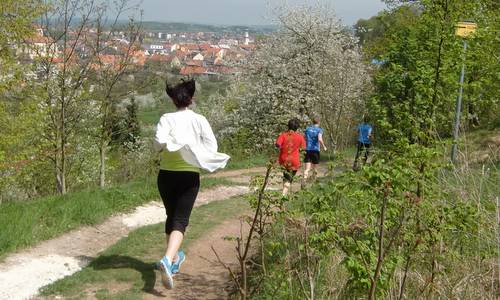 Boskovické běhy is a very atmospheric running event, held every year on May Day in the small town of Boskovice which is situated in the wooded hills of the Moravian Karst, approximately 40 kilometres north of Brno, the second-largest city in the Czech Republic.
Featuring races for all ages and abilities, it's an event for the whole family.
All routes are traffic-free and very scenic, starting and finishing on the vast Masaryk Square in the centre of Boskovice's delightful Old Town.
Children run, depending on their age group, 50m, 150m, 200m, 800m or 1.6km through the town centre.
The 800m fun run is one lap through the town centre. There's no need to register for this run. Just turn up and run!
The 2.5km race takes runners up to the Empire Chateau of Boskovice, through the adjacent park and woods, and then down again to the Old Town. The race is run on mixed terrain. The time limit to complete the course is one hour.
Participants in the 12km race run on roads and forest trails up and down two wooded hills, along a lovely brook, and through the Western Park, a Wild-West-style amusement park in the forest. The race is open to individual runners and relay teams of two (6.5km+5.5km). Time limit: two and a half hours.
You can expect entertainment and live music on the stage all day long, and plenty of opportunity to sample Czech food and drink delicacies on the main square.
Map of the venue:
13. Boskovické běhy:
Date:
Monday 1 May 2023 (Svátek práce; public holiday in the Czech Republic)
Event website:
Archive:
Race report and photos:
No guarantee is made as to the accuracy or thoroughness of the information on this page.