Sunday 13 November 2022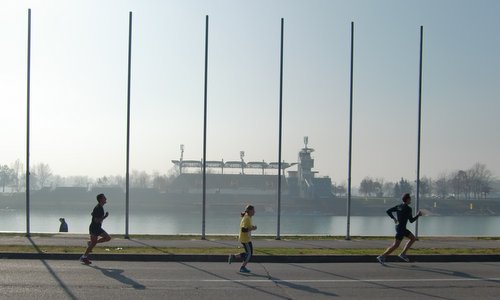 The Polumaraton Ivan Starek is a road running event staged every year in November at Lake Jarun in Zagreb, capital of Croatia.
Created for the Summer Universiade 1987, Jarun is home to a rowing regatta course, sports facilities, shingle beaches, cafés and bars.
Starting and finishing at the western end of the lake, the event comprises three races:
5km Jarunska petica
10km Jarunska desetka
21.1km Polumaraton (half marathon)
Following the road that encircles Lake Jarun, the half marathon is three laps around the lake. The first lap includes a detour to the Otok Hrvatske mladeži (Island of the Croatian Youth).
The course has been accurately measured and it is completely flat and closed to traffic for the time of the race, so it offers a fine opportunity to set a personal best time.
Map of the venue:
35. Polumaraton Ivan Starek:
Date:
13 November 2022 (Sunday)
Event website:
Number of finishers:
5km
10km
21.1km
Σ
2022
119
109
344
572
2021
77
110
270
457
2020
Event cancelled
---
2019
122
155
291
568
2018
141
226
332
699
Archive:
Race information:
Race report, results and photos: