17 January - 14 February - 14 March 2021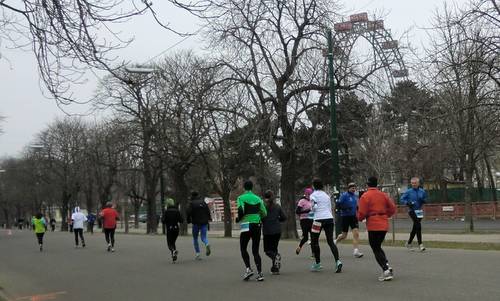 Held in the Wiener Prater, the largest public park in Austria's capital Wien (Vienna), the annual Eisbärlauf ('Polar Bear Run') race series comprises three road running events — one in January, one in February and one in March.
Each event features a 7km race (one lap), a 14km race (two laps) and a 21.1km half marathon (three laps; the third lap is a bit longer than the first two laps).
The events in February and in March also offer a 28km run (four laps).
The course is totally flat, AIMS-certified and closed to traffic.
Starting near the Ernst-Happel-Stadion, Austria's biggest stadium, the route consists of a 3km loop and a 4km out-and-back run along Hauptallee, the main avenue through the park.
The turnaround point is at the Wiener Riesenrad, Vienna's famous Ferris wheel, which stands in the 'Wurstelprater' amusement park.
Organized by the LCC Wien athletics club, each single Eisbärlauf event usually draws a crowd of well over 1,000 runners.
Map of the venue:

21. Eisbär-Cup:
Date:
1. Eisbärlauf: 17 January 2021 (Sunday) - Cancelled! Virtual Run only (15-17 January)

2. Eisbärlauf: 14 February 2021 (Sunday) - Cancelled! Virtual Run only (12-14 February)
3. Eisbärlauf: 14 March 2021 (Sunday) - Cancelled! Virtual Run only (12-14 March)
Event website:
Archive:
Race information:
No guarantee is made as to the accuracy or thoroughness of the information on this page.