Trebatice (Slovakia), Sunday 30 July 2017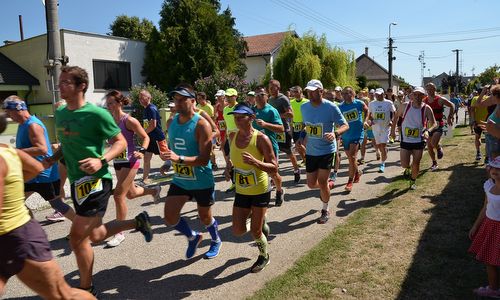 Photo by courtesy of Juraj Jankech
The Memoriál Petra Minárecha is a medzinárodný cestný beh na 10 km, an international 10k road race in Slovakia.
It is held in memory of Peter Minárech, an avid runner and co-founder of the race, which was called Trebatická desiatka (Trebatice 10k race) until 2006 when Peter died at the age of 51. All in all, this is the 21st edition of the event.
The race takes place in Trebatice, a village of about 1,350 people, situated in the wide Váh valley in the western part of Slovakia, approximately seven kilometres from the spa town of Piešťany.
Participants in the 10k race run three and a half laps of a 2.8km-long course through the village. The start and the finish are 1.6km apart.
Last year, Ondrej Kubo (35 minutes 31 seconds) and Lucia Janečková (37 minutes 59 seconds) led a field of 102 runners across the finish line.
The entry fees are just €2 and the registration process is very easy. You just need to turn up and register on the day of the event.
Watch this superb video (2min 43sec) to find out what a great event it is.
Country: Slovakia
Venue (Map): Trebatice (Piešťany 7km, Trnava 29km, Bratislava 80km, Brno 131km)
Date: 30 July 2017 (Sunday)
Start time and race distance:
10.00: opening ceremony
10.05: 500m-1,000m (children's races)
10.30: 10km
Finish area: at the Obecný úrad (municipal office)
Entries: on the day of the event (8.45-9.45) at the Obecný úrad (municipal office)
Entry fees (500m, 1,000m): no entry fees
Entry fees (10km): € 2
You get: refreshments after the race; free bus service from the railway station in Piešťany (at 9.30) to Trebatice and back after the race
Changing facilities: yes
Prizes: to the first 3 men and 3 women and to the first 3 in each age group (prizes are not cumulative)
Award ceremony and prize drawing: at 12.30
Number of finishers 2016: 102 finishers in the 10k race
Number of finishers 2017: 130 finishers in the 10k race
Event details (in Slovak): 9. Memoriál Petra Minárecha 2017 (PDF)
No guarantee is made as to the accuracy or thoroughness of the information on this page.