Sunday 30 July 2023
The Memoriál Petra Minárecha is a medzinárodný cestný beh na 10 km, an international 10k road race.
It takes place annually in the summer in the village of Trebatice which is situated in the wide valley of the Váh river in the western part of Slovakia, approximately seven kilometres from the spa town of Piešťany.
The race is held in memory of Peter Minárech, a keen runner and co-founder of the race, which was called Trebatická desiatka (Trebatice 10k) from 1981 up until 2006 when Peter died at the age of 51.
Competitors run three and a half laps of a 2.8-kilometre loop course through the village. The start and the finish are 1.6 kilometres apart.
Children run either 200 metres, 500 metres or one kilometre.
Every year, the event attracts a healthy mix of fun runners and elite athletes from all over Slovakia and neighbouring countries.
The registration process is simple. Just turn up in Trebatice and fill out the entry form. The entry fees for the 10k are very low (€2). Entry to the kids' races is free.
Watch this superb video (2 minutes 43 seconds) to find out what a great event it is.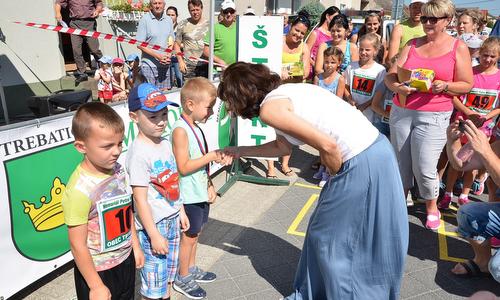 Photos by courtesy of Juraj Jankech
Map of the venue:
13. Memoriál Petra Minárecha:
Date:
Race information:
Number of finishers in the 10k race:
2022: 63
2021: Event cancelled
2020: Event cancelled
2019: 119
2018: 110
2017: 130
Archive:
Race information:
No guarantee is made as to the accuracy or thoroughness of the information on this page.